YuMi's unveiling at the Hannover Messe next week heralds a new era of robotic coworkers capable of working collaboratively with humans while ensuring their safety
Hannover, Germany, April 8, 2015 - Four decades ago, ABB introduced the first microprocessor-controlled robot to the world. Today, ABB is again shifting the paradigm with YuMi, the world's first truly collaborative dual-arm industrial robot. YuMi's arrival will fundamentally expand the types of industrial processes that can be automated to encompass small-parts assembly that is prevalent in the electronics industry. YuMi makes collaboration between humans and robots a reality. A new era of robotic coworkers has arrived.

ABB is a leading supplier of industrial robots, modular manufacturing systems and service. A strong focus on solutions helps manufacturers improve productivity, product quality and worker safety. ABB has installed more than 250,000 robots worldwide.
The ABB Group (www.abb.com) of companies operates in around 100 countries and employs about 140,000 people. It is a leader in power and automation technologies that enable utility and industry customers to improve performance while lowering environmental impact.
Featured Product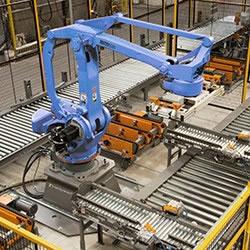 Honeywell Intelligrated has deep experience implementing robotic solutions that work seamlessly with existing automated equipment and is recognized by the Robotic Industries Association as a certified robot integrator. The company's extensive robotic integration capabilities include solution development, design engineering and project management, complete manufacturing capabilities, installation and commissioning, and lifecycle support services.