C-mis Kickstarter Success has been supported with advance purchases of this superior quality drone at well below market pricing.
Pasadena, California May 19, 2015

PolyHelo (a company founded by former Caltech professors, NASA scientists and Navy Seals) has successfully Kickstarted C-mi (see-me), an all-in-one camera drone packed with professional features but designed for real world consumer use.
C-mi combines a mix of professional drone technology and a consumer-minded user interface, a sought after combination for drone enthusiasts.
PolyHelos Kickstarter campaign has secured the coveted Kickstarter "Staff Pick" and has reached its campaign goal. For a few days more, people can support C-mis continued success on Kickstarter - with an advance purchase of this superior quality drone at well below market pricing. Customers will enjoy C-mis professional features along with its easy to use, consumer friendly app and flight control modes.
PolyHelos CEO, Mark Richardson, describes C-mi as the "pro-drone for everyone."
"C-mi is a lot of fun. It has many professional features, can operate itself and takes professional footage that can be shared in real time," said Richardson. "You dont have to think about operating C-mi."
C-mis team focused on building a robust, technology packed drone that is great fun to fly and gets the job done, but you never have to worry about it. Some of the professional features:
* Multi Axis Gimbal - C-mi has an advanced multi axis gimbal that will keep your video centered and steady on what you want to shoot
* Retractable Camera - C-mi has a high definition, built in camera that retracts at landing and liftoff. This keeps it safe and places the camera so that landing legs are out of shot during flight
* Portable Design - C-mis legs detach for fast storage and safe keeping
* Robust Housing - The hardware was designed to stand the abuse of everyday use. This is important when it matters most - in real-life, field applications.
* GPS Tracking - C-mi has the option to be used with water-proof GPS wearable trackers, for targeting where you wouldnt want your cellphone to go.
C-mis professional drone design was made for the masses. So its easy to use. The drones digital user interface has been designed for easily controlled flight, changeable camera modes, live video viewing while the drone is still in flight, and real-time sharing of images and video to social media platforms, all from a single app.
C-mi provides four main modes that control both the flyer and camera from a mobile device using a single, proprietary, intuitive iOS or Android app. The modes are: follow, orbit, pano and manual. The first three modes follow preset patterns that can make everyone a professional videographer. Consumers can focus on capturing images or a video -- and not how to fly or manage the drone.
Polyhelo is fully integrated, developing software and hardware for open blade multi-rotor systems and other unmanned aerial systems (UAS).
Featured Product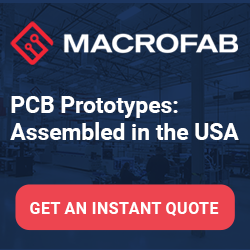 At MacroFab, we understand the challenges engineers face when searching for the perfect partner to bring their visions to life. Traditional overseas prototype factories may offer low-cost solutions but often have hidden compromises. Say goodbye to subpar quality, communication barriers, and frustrating delays - choose MacroFab for a stress-free, reliable, and professional prototyping experience.