DJI Matrice 100 and DJI Guidance part of developer suite open the skies to new hardware and software applications
SHENZHEN, China, June 8, 2015 -- DJI, the world leader in innovative aerial robotics, today announced a suite of products designed to help developers research and test new applications for aerial technology.

The DJI Matrice 100 (M100) is a new quadcopter specifically created for developers to test new hardware and software solutions for the sky. The system includes everything needed to fly with minimal assembly time and no need for tuning or programming the platform to get it in the air.
With multiple communication ports, power supply leads, and expansion bays, peripheral hardware can be mounted to the system and access a flight data and control mechanisms. The platform can fly for 20 minutes with a 1kg (2.2 lbs) payload, but can be configured with an extra battery compartment to provide up to 40 minutes of flight time with a diminished payload capacity.
The M100 also incorporates DJI's signature Lightbridge video transmission technology that is open to the DJI Inspire 1 Zenmuse X3 camera and gimbal, as well as any camera with HDMI or analogue video output. This makes it simpler than ever to stream live images to smart devices using DJI Pilot app from a variety of sensors, including near infrared and thermal.
"The M100 makes it easy to add processors, sensors and other equipment, opening the possibilities for how people use aerial technology in across industries," said Frank Wang, CEO and CTO of DJI. "We're excited to see how researchers and developers will use this platform to test how aerial technology can be used for agriculture, inspection, search and rescue and several other fields."
The company also announced the DJI Guidance system, the first commercially-available collision avoidance for aerial platforms. Using a network of ultrasonic sensors and stereo cameras, Guidance identifies when an aerial platform is close to objects at a range up to 20m (65 feet) and will prevent flying close to the objects at a configurable distance, as well as providing centimetre visual positioning stabilization above the ground).
Guidance can mount to the DJI M100 or any other robotic system with USB and UART connection ports.
Both the M100 and Guidance system have Software Development Kits (SDK) that allow developers to read flight data and control flight functions both through mobile applications and on board.
Research teams are already using the M100 and Guidance system for unique applications, including an aerial solution created at Fudan University in Shanghai that uses Intel processors to detect illegally parked cars from the air.
DJI also announced SDKs for the company's leading aerial platforms, the DJI Inspire 1 and Phantom 3. The SDK for the Inspire 1 and Phantom 3 make it easy for software developers to create applications to control the world's aerial imaging platforms.
"DJI has already made flight more accessible than ever before, but with our expanding developer suite we are making aerial innovation open to anyone with a creative vision," said Andy Pan, DJI's Vice President of Ecosystems. "Using our high-performance aerial platforms and easy-to-use development kits, the possibilities for aerial technology for researchers and developers are endless."
The M100 and Guidance system are available for pre-order at $3,299 and $999, respectively. They are schedule to begin shipping by the end of the month. Given the focus on research and development of these systems, a special discount will be offered to academic institutions.
The SDK for the Phantom 3 and Inspire 1 are available to download, along with more information about the M100 and Guidance system, at dev.dji.com.
Featured Product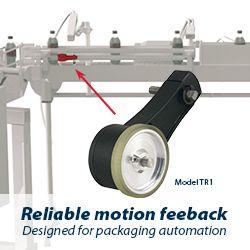 EPC is excited to announce our NEW online 3D Configurator. This new tool makes it even easier to configure EPC's products exactly how you need them for your application. The 3D Configurator interface is intuitive and works in any web browser for both desktop and mobile. It'll only take you a moment to learn your way around the program. Careful, though: it's so fun to play with, you may spend a whole afternoon on it!