Partnering with a large package delivery company to use HorseFly, truck launched drone, to deliver packages.
CINCINNATI, OH July 8, 2015 July 08, 2015

Workhorse Group Inc. (OTCQB: WKHS), today announced that it has filed a Section 333 exemption with the FAA to deliver packages using its proprietary HorseFly octocopter that flies to and from a standard delivery vehicle.
Steve Burns, Workhorse CEO, said "Since our inception, we have focused on providing more energy efficient transportation systems. The combination of the Horsefly and the Workhorse EV represents a significant improvement in reducing emissions and improving the efficiency of the delivery process."
Workhorse Aerospace is teaming with the University of Cincinnati to develop all of the systems necessary to execute precision take-offs and landings on the top of a standard delivery truck in a variety of weather conditions.
Workhorse will be demonstrating the capabilities of the Horsefly at the NASA Ames Research Center in Mountain View, CA the end of month during the NASA Unmanned Aerial Systems (UAS) Traffic Management Convention sponsored by the Association for Unmanned Vehicle Systems International (AUVSI).
Martin Rucidlo, President added, "The Horsefly is unique, not only because we are seeking to be the first UAS to make deliveries from a truck that is constantly moving to a different location, but because it also takes advantage of the proprietary battery and system technology that Workhorse has developed in-house for our EPA approved electric work trucks. "
About Workhorse Group Inc.
Workhorse Group Inc. is the parent company of AMP Electric Vehicles Inc. and AMP Trucks Inc. AMP Electric Vehicles manufactures electric drive systems for medium-duty, class 3-6 commercial truck platforms. AMP Trucks Inc., which purchased the assets of Workhorse Custom Chassis LLC from Navistar in March of 2013, can equip its Workhorse chassis with gasoline, propane, or CNG engines in addition to all-electric. Workhorse also manufactures chassis for the Type A Motorhome/RV industry. For additional information visit http://www.workhorse.com
Featured Product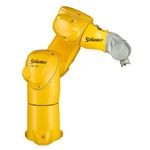 TX2 robots: redefining performance by offering collaborative safety and high performance in a single machine. These pioneering robots can be used in all areas, including sensitive and restrictive environments, thanks to their unique features. Safety functions are easy and inexpensive to implement. They allow a higher level of interactions between robots and human operators, while still guaranteeing protection of your people, production and investment.