Traverse Legal, PLC has recently launched its new website regarding Section 333 Exemptions and the use of drones (UAS/UAV) for commercial use under FAA regulations.
Traverse City, MI July 23, 2015

Traverse Legal, PLC has recently launched its new website http://www.dronelaw.pro. The website aims to convey essential information regarding FAA Regulations on the operation of drones (UAS/UAV).
DroneLaw.Pro is staffed by legal experts of the drone industry offering assistance in the filing and compliance of the Section 333 Petition exemptions for the commercial use of UAS/UAV/Drones. The new website offers vast amounts of information regarding Federal and State Drone Laws, filing a Section 333 Petition and other Federal Aviation Administration resources regarding drones.
With the FAA granting Section 333 Petition Exemptions on a strict discretionary basis, DroneLaw.Pro's objective is to be the leader in legal matters regarding Section 333 Petitions Exemptions and to assist individuals and companies with acquiring a Section 333 Permit, maintaining compliance under the Section 333 Permit and all other FAA regulations for UAS/drones. They understand all legal aspects of the unmanned aircraft systems/drones including the technology, engineering, electrical systems, navigation technology, hardware and software systems of drones and the FAA laws surrounding UAS/UAVs.
Featured Product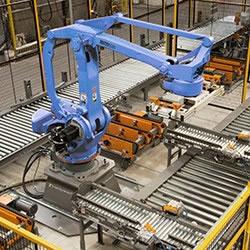 Intelligrated has deep experience implementing robotic solutions that work seamlessly with existing automated equipment and is recognized by the Robotic Industries Association as a certified robot integrator. The company's extensive robotic integration capabilities include solution development, design engineering and project management, complete manufacturing capabilities, installation and commissioning, and lifecycle support services.