Autonomous Solutions, Inc. Ranks No. 1716 on the 2015 Inc. 5000 with Three-Year Sales Growth of 237%, No. 19 Top Engineering Company
PETERSBORO, UTAH August 20, 2015

Autonomous Solutions, Inc. (ASI), a leader in ground vehicle automation, announced it has been awarded a spot on Inc. magazine's 34th annual Inc. 5000 list. ASI has been named one of the top 5000 fastest-growing private companies in the Americas.
Inc. magazine ranks ASI NO. 1716 overall and NO. 19 in Engineering on its 34th annual Inc. 5000, an exclusive list of the nation's fastest-growing private companies.
ASI is the leading provider of a set of robotics platform building blocks to partners in agriculture, mining, automotive testing, security, industrial cleaning, and industrial automation, among others.
"We are thrilled to be one of the country's fastest growing companies and from what we understand the fastest growing robotics company. After 15 years in business the technology readiness and customer demand are finally converging for what looks to be an exponential adoption curve," says Mel Torrie, ASI co-founder and CEO. "We have seen more demand in the last 18 months than we've seen in the previous 15 years and we're fortunate to have assembled the needed productization team to complement our research capability. We could not have accomplished this organic growth without patient and forward looking early adopter partners and we are thankful for their support."
ASI has grown its staff of primarily engineers from 28 in 2011 to 118 today. As of the end of 2014, ASI had a 237% revenue growth. As a result of this growth, through years of research and development, ASI is now able to offer clients a rapid and affordable pathway to driverless vehicles in any industry. This has been proven in soon to be announced partnerships with several world leading OEM vehicle manufacturers in industries such as agriculture, mining, industrial automation, security, and automotive testing. Solutions can range from remote control to full driverless autonomy and there have been exciting savings realized not just in labor savings, but in maintenance cost reduction and improved deterministic productivity.
Complete results of the Inc. 5000, including company profiles and an interactive database, can be found at http://www.inc.com/inc5000.
About Autonomous Solutions, Inc.
For more than 15 years, ASI has been a world leader in unmanned ground vehicle solutions. From our northern Utah headquarters, ASI serves clients around the world in the mining, agriculture, automotive, military, and manufacturing industries with remote control, teleoperated, and fully automated, coordinated multi-vehicle solutions. We have years of experience automating ground vehicles from various industries.
ASI's Mobius software leverages advanced multi-vehicle command and control algorithms to set up and manage vehicles in varying systems. Mobius increases safety, efficiency, and repeatability.
ASI's number one priority is safety. Each automation kit safeguards personnel and vehicles with multiple layers of hardware and software safety features.
For more information about ASI, visit http://www.asirobots.com.
Featured Product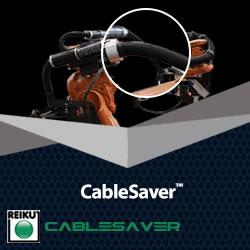 REIKU's Cable Saver™ Solution eliminates downtime, loss of revenue, expensive cable and hose replacement costs, maintenance labour costs. It's available in three sizes 36, 52 and 70 mm. All of the robots cables and hoses are protected when routed through the Cable Saver™ corrugated tubing. The Cable Saver™ uses a spring retraction system housed inside the Energy Tube™ to keep this service loop out of harms way in safe location at the rear of the Robot when not required. The Cable Saver™ is a COMPLETE solution for any make or model of robot. It installs quickly-on either side of the robot and has been tested to resist over 15 million repetitive cycles.