"It's a strong addition to Arrow's portfolio."
CENTENNIAL, Colo. & VANCOUVER, British Columbia--Arrow Electronics, Inc. (NYSE: ARW) and Intrinsyc Technologies Corp. (TSX: ITC), a leading provider of solutions for the development and production of intelligent connected products, today announced Arrow's availability of Intrinsyc's Open-Q™ 410 System on Module as the result of a new franchise agreement between the two companies.

The Open-Q 410 is a miniature embedded computing platform designed to enable the rapid commercial production of intelligent connected products, including robotics, cameras, set-top boxes, wearables, medical devices and home automation, among others.
The Open-Q 410 features the Qualcomm® Snapdragon™ 410 processor, a product of Qualcomm Technologies, Inc., a subsidiary of Qualcomm Incorporated. The Snapdragon 410 processor is designed to meet the demanding requirements of embedded computing applications with its high performance, energy efficiency, multimedia features and integrated connectivity.
"The Open-Q 410 SOM provides an efficient path for production of compact and connected products," said David West, vice president of global marketing and engineering for Arrow's global components business. "It's a strong addition to Arrow's portfolio."
Since 1996, Intrinsyc has helped leading brand OEMs create hundreds of mobile and embedded devices. With complete product development capabilities and engineering expertise, Intrinsyc can create customized embedded computing platforms to meet the most demanding requirements.
"We are excited to expand opportunities for the Open-Q 410 System on Module through Arrow's broad channel reach to global embedded and IoT customers," said Tracy Rees, chief executive officer, Intrinsyc Technologies Corp.
About Arrow Electronics
Arrow Electronics (www.arrow.com) is a global provider of products, services and solutions to industrial and commercial users of electronic components and enterprise computing solutions. Arrow serves as a supply channel partner for more than 100,000 original equipment manufacturers, contract manufacturers and commercial customers through a global network of more than 460 locations in 56 countries.
Featured Product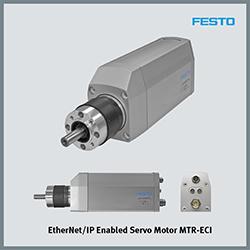 Mechatronic Motion Solutions from Festo is a unique system of components, modules, and software. It integrates all types of pneumatic, servopneumatic and (electro)mechanical automation motion and combines them according to your task. Irrespective of the control system environment you use, Mechatronic Motion Solutions always provides the appropriate interfaces. The fingers can be actively moved and their strength amplified; the operator's hand movements are registered and transmitted to the robotic hand in real time. The objectives are to enhance the strength and endurance of the human hand, to extend humans' scope of action and to secure them an independent lifestyle even at an advanced age.