Inside 3D Printing Conference and Expo, taking place October 20-22, 2015 at the Santa Clara Convention Center in Santa Clara, California.
NEW YORK, Aug. 25, 2015 -- MecklerMedia Corporation (OTCQX: MECK) announced the launch of the 3D Print Vehicle Zone at Inside 3D Printing Conference and Expo, taking place October 20-22, 2015 at the Santa Clara Convention Center in Santa Clara, California.

Inside 3D Printing has received a grant to allow companies in the 3D printing automotive field to display their designs at no cost. The 3D Print Vehicle Zone is a two-day exhibition on October 21-22, where organizations creating products or parts for any type of vehicle will display the latest 3D printed concept vehicles and equipment. For additional information and to learn if your company is eligible for free exhibition space, visit inside3dprinting.com/santa-clara.
Inside 3D Printing Santa Clara will also feature an array of 3D printing events and activities aimed at enhancing attendee opportunities for networking, learning, and professional advancement. The events include the Inside 3D Printing Startup Competition, which is offering to the winner a $15,000 uncapped convertible note courtesy of Asimov Ventures; an in-depth consulting dinner hosted by Wohlers Associates, the leading consulting firm for the additive manufacturing and 3D printing industry worldwide; and the Virtual Reality Summit.
The Wohlers Associates Consulting Dinner is hosted by Terry Wohlers, Founder, Principal Consultant, and President of Wohlers Associates, and Tim Caffrey, Senior Consultant at Wohlers Associates and an industry veteran and expert that has worked with Wohlers for 15 years. Dinner guests will have the opportunity to ask questions, direct business opportunities, and speak in-depth about their predictions for the future of additive manufacturing.
The Virtual Reality Summit at Inside 3D Printing brings together a group of hand-picked speakers and exhibitors representing the continuum of VR applications and innovation - the investment and business development paradigms, platform technologies, software, applications, content development ecosystems, and markets. Virtual Reality Summit sessions take place on October 21, while VR exhibits remain open October 21-22.
Inside 3D Printing Santa Clara is an official 3D Print Week California event. 3D Print Week California takes place on October 19-23, 2015 at a variety of venues throughout San Francisco and Silicon Valley.
Prices increase on August 26, so register before to save with early bird pricing. For more information and to register for Inside 3D Printing Santa Clara, visit inside3dprinting.com.
About MecklerMedia
MecklerMedia (OTCQX: MECK) is the leading producer of global trade shows, conferences, and digital publications covering 3D printing, robotics, and bitcoin/blockchain. MecklerMedia produces more than 25 conferences annually, including Inside 3D Printing, Inside Bitcoins, RoboUniverse, and the 3D Print Design Show. MecklerMedia's news sites include Inside Bitcoins News and 3D Printing Industry, which provide up-to-date coverage to help drive business forward.
All current MecklerMedia press releases can be found online at: mecklermedia.com.
Featured Product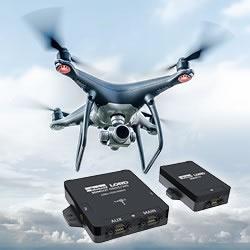 The new complete inertial navigation solution comes with GNSS/INS 3DMGQ7 sensor, 3DMRTK correction modem and real time SensorCloud RTK correction network. The sensor comes with Dual antenna GNSS, tactical grade IMU with centimeter-level accuracy with RTK. Low profile and light weight at 78 grams, this sensor is The sensor is optimized for size and weight in Unmanned Ground Vehicles, mobile robots and autonomous vehicles. The network interface 3DMRTK modem is seamlessly integrated into the 3DMGQ7 sensor supports industry-standard NMEA and RTCM 3.1 protocols. The network RTK support comes with cellular data plan. The SensorCloud RTK is a cloud-based RTK correction system with private encrypted data stream. Check out our G Series and C Series OEM products.