-- AGCO Enters the Unmanned Aerial Vehicle Business Through Strategic Partnership with Emerging Market Leader --
BOULDER, Colo., Sept. 3, 2015 -- Agribotix LLC and AGCO have partnered to bring a turnkey agricultural intelligence solution to market. The "all-in-one," drone-enabled package combines Agribotix's FarmLens cloud-based data platform with the purpose-built SOLO AGCO edition quadcopter to provide customers with an efficient, reliable way to collect and analyze field data for precision agriculture applications.

The new package enables users to scout and record aerial field data across up to 60 acres in a single flight. Agricultural imaging cameras capture RGB and near-infrared images. The data collected is uploaded to the FarmLens platform, where it is then processed to produce high-resolution Field Health Reports (NDVI) essential for identifying potential yield-limiting problems early on. These actionable reports can then be used to optimize inputs and to address issues, leading to improved crop yields and increased profits for growers.
Agribotix provides the platform, service and support for the integrated solution. The SOLO AGCO edition drone is built on the 3D Robotics Solo platform. The UAV is future-ready, designed for easy integration with technological upgrades and enhancements.
"Our partnership with AGCO gives our customers a best-in-class ag intelligence solution, enabled by a robust, purpose-built drone," said Agribotix CEO, Lou Faust. "Both companies are 100% focused on agriculture, so we understand the kind of reliable information farmers need to better manage their farms and increase their bottom lines. That's confidence for our customers."
About Agribotix
Founded in Boulder, Colorado in 2013, Agribotix LLC delivers agricultural intelligence to increase yields and profits using drone-enabled technologies. All Agribotix solutions include FarmLens™, the leading cloud-based data analysis and reporting solution for people using drones in agriculture. Outputs include prescription maps for in-season fertilization, weed reports for geolocating resistant patches and estimating coverage, and specialized reporting. The FarmLens solution is bundled with the Enduro turnkey ag drone system, which includes a long-range agricultural quadcopter. For more information, visit www.agribotix.com or call (720) 295-3625.
About AGCO
AGCO (NYSE: AGCO) is a global leader in the design, manufacture and distribution of agricultural equipment. AGCO supports more productive farming through a full line of tractors, combines, hay tools, sprayers, forage equipment, grain storage and protein production systems, seeding and tillage implements, and replacement parts. AGCO products are sold through five core equipment brands, Challenger, Fendt, GSI, Massey Ferguson and Valtra, and are distributed globally through a combination of approximately 3,100 independent dealers and distributors in more than 140 countries. Founded in 1990, AGCO is headquartered in Duluth, Georgia, USA. In 2014, AGCO had net sales of $9.7 billion. For more information, visit http://www.AGCOcorp.com.
Featured Product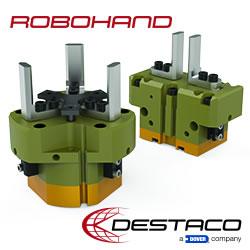 Automatically change end effector tooling quickly and easily with Destaco's Automatic Tool Changers. Designed with exceptional repeatability, high rigidity and load capacity, they are perfect for multiple tooling applications utilizing one robot. We offer different models and sizes to handle light-duty to heavy-duty applications. Our RQC/RTP Series provides a high level of flexibility with a configurable, modular design that accommodates up to four optional modular interfaces.