-- Qualcomm Snapdragon Flight Supports Small, Light Drones with Advanced Video and Image Capture, Communication and Navigation Features --
SAN DIEGO, Sept. 10, 2015 -- Qualcomm Incorporated (NASDAQ: QCOM) today announced that its subsidiary, Qualcomm Technologies, Inc., has introduced Qualcomm Snapdragon Flight, a highly optimized 58x40mm board targeted specifically for consumer drones and robotics applications. Qualcomm Snapdragon Flight is based on a Qualcomm Snapdragon 801 processor, along with robust connectivity, advanced drone software and development tools, bringing cutting-edge mobile technologies to create a new class of consumer drones.

"Today, drones are made from multiple component vendors providing separate solutions for photography, navigation and communications, adding to the cost and bulk of consumer drones," said Raj Talluri, senior vice president, product management, Qualcomm Technologies, Inc. "The Qualcomm Snapdragon Flight brings together the technologies that have defined the mobile industry onto a single board, enabling OEMs to build drones that are lighter, smaller, easy to use and affordable with long battery life and superior functionalities."
Qualcomm Technologies also announced that Yuneec, a leading developer of consumer and professional drones with a long history of innovation in electric aviation, will be one of the first companies to embrace the Snapdragon Flight. Yuneec plans to release a drone based on the platform in 2016.
The Snapdragon Flight features advanced processing power, real-time flight control on the Qualcomm Hexagon DSP, built-in Qualcomm 2x2 Wi-Fi and Bluetooth connectivity, and a leading global navigation satellite system (GNSS) optimized to support highly accurate location positioning. The Snapdragon Flight is designed to enable the advanced features that drone consumers want most, including:
* 4K Video - 4K high resolution camera support, image enhancement and video processing capabilities and simultaneous 720p encoding for first person view
* Advanced Communication and Navigation - Dual-band 2x2 802.11n Wi-Fi, Bluetooth 4.0, and 5 Hz GNSS location capabilities with advanced real-time flight control on Hexagon DSP
* Robust Camera and Sensor Support - 4K stereo VGA, optic flow cameras, inertial measurement unit (IMU), barometer sensor support and ports for additional sensors
* Qualcomm Quick Charge Technology - Supporting fast battery charging in between video/picture sessions
"Drones are enabling a broad range of applications such as aerial photography, the ultimate selfie accessory and sports filming, so the ability to shoot in 4K is a must-have feature," continued Raj Talluri. "Qualcomm Technologies is already a leader in bringing 4K video capture to consumers having over 500 device designs powered by Qualcomm Snapdragon processors with 4K UltraHD video capability, allied with the highly integrated SoC, so it's natural for us to support the same technologies in the consumer drone space."
The Snapdragon 801 processor powers some of the world's most popular smartphones and includes a 2.26GHz quad-core Qualcomm® Krait™ CPU, Qualcomm® Adreno™ 330 GPU, Hexagon DSP, dedicated video encode engine and dual image signal processors (ISP). Together, these form a heterogeneous computing platform to support the development of advanced drone features such as obstacle avoidance and video stabilization.
Availability
Snapdragon Flight is available today for select OEMs, and is expected to be available in commercially available drones by 1H 2016.
About Qualcomm Incorporated
Qualcomm Incorporated (NASDAQ: QCOM) is a world leader in 3G, 4G and next-generation wireless technologies. Qualcomm Incorporated includes Qualcomm's licensing business, QTL, and the vast majority of its patent portfolio. Qualcomm Technologies, Inc., a wholly-owned subsidiary of Qualcomm Incorporated, operates, along with its subsidiaries, substantially all of Qualcomm's engineering, research and development functions, and substantially all of its products and services businesses, including its semiconductor business, QCT. For more than 30 years, Qualcomm ideas and inventions have driven the evolution of digital communications, linking people everywhere more closely to information, entertainment and each other. For more information, visit Qualcomm's website, OnQ blog, Twitter and Facebook pages.
Featured Product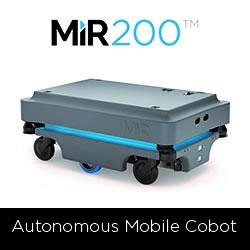 MiR200 is a safe, cost-effective mobile robot that automates your internal transportation. The robot optimizes workflows, freeing staff resources so you can increase productivity and reduce costs. MiR200 safely maneuvers around people and obstacles, through doorways and in and out of lifts. You can download CAD files of the building directly to the robot, or program it with the simple, web-based interface that requires no prior programming experience. With its fast implementation, the robots offers a fast ROI, with payback in as little as a year.