3,000-Square-Foot 3D Printing Lab Provides Pioneering Space to Innovate and Build Ideas
MIAMI BEACH, Fla.--Florida International University (FIU), the fourth largest university in the United States, and MakerBot, a global leader in the desktop 3D printing industry, will be holding a grand opening of the new CARTA Innovation Lab at the FIU College of Architecture + The Arts (CARTA) Miami Beach Urban Studios on September 29, 2015. The FIU Innovation Lab incorporates a MakerBot Innovation Center, a large-scale 3D printing installation designed to empower universities and organizations to innovate faster, collaborate better, and compete more effectively. FIU is the first university in the United States to house a MakerBot Innovation Center in a college focused on design and the arts where students, faculty, and local entrepreneurs will work on creative projects and explore the intersection of art and technology. Grand opening festivities will begin at 10 a.m., Tuesday, September 29, at FIU's Miami Beach Urban Studios, with speeches from FIU President Mark Rosenberg and MakerBot CEO Jonathan Jaglom.

"The College of Architecture + The Arts is the first arts college in the nation to work with MakerBot to embrace 3D printing at a large scale," said Brian Schriner, dean of FIU's College of Architecture + The Arts. "This new creative space will prepare students for the jobs of tomorrow by exploring the intersection of arts, design, and technology. The CARTA Innovation Lab is a major milestone that will help establish FIU as a national destination for innovative teaching, research, entrepreneurism, and creativity."
Miami's startup scene has seen enormous growth over the last few years1, but the city has few established makerspaces where entrepreneurs can experiment and build. The CARTA Innovation Lab will help fill this gap, providing the next generation of Miami talent with a space to realize their ideas and inviting the community. The 3D printing lab will be part of the Miami Beach Urban Studios, which provide expansive space for design and fine arts students, practice, and performance spaces for music and theatre students, and expansive gallery/exhibition spaces and classroom space for use by the entire College. The location is an ideal base for the study in arts, design, communication, and entrepreneurship, and for exposure to the wealth of arts organizations and design firms located in Miami Beach.
The CARTA Innovation Lab features an open layout to encourage collaboration and will be made available to the community. It will bring together students from various disciplines with local entrepreneurs and artists to work on creative projects, develop new products, and conduct research. The lab will support a range of activities, from dual-enrollment programs for local high-school students to for-credit classes for FIU students and start-up programs for recent graduates.
"Desktop 3D printing is changing the way we think, work, and create things, and FIU is taking the lead in unlocking the creative potential of this transformative technology to art students," noted Jonathan Jaglom, CEO of MakerBot. "By bringing in a large-scale 3D printing center and providing access to 3D printers to students at an early stage, FIU can create an atmosphere of collaboration and accelerate the creative process like never before."
According to John Stuart, AIA, associate dean for cultural and community engagement and the executive director of Miami Beach Urban Studios, "FIU students already have ideas of how to utilize the lab, ranging from architecture students who want to use MakerBot Replicator 3D Printers to reimagine urban landscapes and showcase models, to art students who are designing 3D printed musical instruments.'' With collaborators from other disciplines, students in the lab will also explore the design and 3D printing of objects that address a variety of issues from sea level rise, world potable water shortages, aging in place, health, prosthetics, and mobility. Composer-in-Residence, Orlando Jacinto Garcia, has even begun working on a new composition in which 3D printers will join the world-renowned FIU School of Music's ensemble-in-residence Amernet String Quartet in a production of a quartet with 3D printer soloists that produce sound and relevant objects.
Support for the CARTA Innovation Lab is a part of the Knight Foundation's efforts to invest in Miami's emerging innovators and entrepreneurs as a tool to build the community while fostering talent and expanding economic opportunity. Over the past three years, Knight has made more than 100 investments in entrepreneurship in South Florida.
The CARTA Innovation Lab at the Miami Beach Urban Studios houses a MakerBot Innovation Center, a custom, centralized and scalable 3D printing solution. The lab has been built in conjunction with training from MakerBot for university staff by the MakerBot Learning team of highly trained 3D printing experts. The CARTA Innovation Lab includes 30 MakerBot Replicator 3D Printers (30 MakerBot Replicator Desktop 3D Printers, 1 MakerBot Replicator Z18 3D Printers 1 MakerBot Replicator Mini Compact 3D Printers), a large supply of MakerBot PLA Filament, 5 MakerBot Digitizer™ Desktop 3D Scanner and the comprehensive MakerBot MakerCare protection plan. At the core of the MakerBot Innovation Center is the MakerBot Innovation Center Management Platform, a proprietary 3D printing software platform that links the MakerBot Replicator 3D Printers together, streamlines productivity and staffing of the center, and provides remote access, print queuing, and mass production of 3D prints.
For more information on MakerBot Innovation Centers, email innovation@makerbot.com, visit makerbot.com/innovation-center or call toll-free 855-347-4780. To learn more about FIU and its new Innovation Lab, visit carta.fiu.edu/innovlab
About MakerBot
MakerBot, a subsidiary of Stratasys Ltd. (Nasdaq:SSYS), is leading the Next Industrial Revolution by setting the standards in reliable and affordable desktop 3D printing. Founded in 2009, MakerBot sells desktop 3D printers to innovative and industry-leading customers worldwide, including engineers, architects, designers, educators, and consumers. MakerBot desktop 3D printers are a gateway to skills in the 21st century and are already in more than 5,000 schools throughout the U.S. To learn more about MakerBot, visit makerbot.com.
About FIU
Florida International University is recognized as a Carnegie engaged university. It is a public research university with colleges and schools that offer more than 180 bachelor's, master's, and doctoral programs in fields such as engineering, international relations, architecture, law, and medicine. As one of South Florida's anchor institutions, FIU contributes $8.9 billion each year to the local economy. FIU is Worlds Ahead in finding solutions to the most challenging problems of our time. FIU emphasizes research as a major component of its mission. FIU has awarded over 200,000 degrees and enrolls more than 54,000 students in two campuses and three centers, including FIU Downtown on Brickell, FIU@I-75, and the Miami Beach Urban Studios. FIU also supports artistic and cultural engagement through its three museums: the Patricia & Phillip Frost Art Museum, the Wolfsonian-FIU and the Jewish Museum of Florida-FIU. FIU is a member of Conference USA and has over 400 student-athletes participating in 18 sports. For more information, visit us at http://www.fiu.edu/.
Featured Product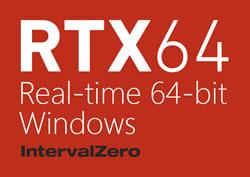 RTX64 turns the Microsoft 64-bit Windows operating system into a Real-time operating system (RTOS). RTX64 enhances Windows by providing hard real-time and control capabilities to a general purpose operating system that is familiar to both developers and end users. RTX64 consists of a separate real-time subsystem (RTSS) that schedules and controls all RTSS applications independently of Windows.RTX64 is a key component of the IntervalZero RTOS Platform that comprises x86 and x64 multicore multiprocessors, Windows, and real-time Ethernet (e.g. EtherCAT or PROFINET) to outperform real-time hardware such as DSPs and radically reduce the development costs for systems that require determinism or hard real-time.