Summit Partners, a global growth equity firm investing in rapidly-growing companies, has invested $60 Million in Aeryon Labs
Waterloo, ON - Aeryon Labs Inc., the premier manufacturer of small unmanned aerial systems (sUAS) and mission control software, today announced that it has closed a $60 million investment from Summit Partners. This investment will help the company realize its ambitious vision for the sUAS market, which sees widespread adoption across military, public safety and commercial operators worldwide.

Enterprise-grade sUAS (commonly known as drones) provide an easy-to-deploy, safe and cost-effective means to acquire mission-critical aerial intelligence for a variety of applications. According to analyst estimates, the sUAS market is rapidly expanding and is expected to approach $6 billion by 2020.
Ranked 7th as a 2014 Deloitte Technology Fast 50™ company and 14th in the North American Technology Fast 500™ ranking, Aeryon has experienced profitable organic growth and global expansion across its 9-year operating history, with customers in over 35 countries. The additional capital from Summit Partners will enable Aeryon to build upon this operational success and accelerate its expansion and delivery of additional capabilities to its core market segments.
"This is a significant milestone for Aeryon Labs," said Dave Kroetsch, the company's President and CEO and one of its principal founders. "It validates our technical lead in the market and our 'aviation not recreation' approach to building sUAS, which is quickly making Aeryon a first choice for utility inspectors, first responders and soldiers in the most demanding operational environments."
"Much of the Summit portfolio is comprised of founder-led companies, poised to take commanding positions in high-growth industries. We believe Aeryon exemplifies these characteristics," said Len Ferrington, a Managing Director at Summit who will join the Aeryon Labs Board of Directors. "The market for sUAS is rapidly expanding, and we believe that Aeryon is a best-of-breed provider that is well positioned to capitalize on those opportunities."
About Aeryon Labs Inc.
Aeryon Labs is the premier manufacturer of small Unmanned Aerial Systems (sUAS), which are at the center of major world events and international media stories. The company is the trusted partner of civil and military customers, resellers, and other commercial business partners around the globe. Aeryon Labs is headquartered in Waterloo, Ontario, Canada. Field-tested and mission-proven, Aeryon sUAS set the standard for immediate aerial intelligence gathering by anyone, anywhere, anytime, for a wide range of military, public safety and commercial applications.
For more information visit: www.aeryon.com
Featured Product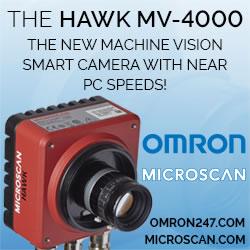 Awe-inspiring power and superior flexibility is sheathed within the contoured casing of the HAWK MV-4000. This smart camera builds upon the previous generation by quadrupling processing power and achieving real-time trigger response using an FPGA. Its state-of-the-art algorithms make it an excellent tool for any industry, whether the requirement be code reading, code verification, inspection, guidance, gauging or a combination of all four.