'Factory of the Future at the annual Oracle OpenWorld conference, October 25 – 29, San Francisco
Minneapolis & Rehovot, Israel - Oct. 22 , 2015 - Stratasys Ltd. (Nasdaq:SSYS), the 3D printing and additive manufacturing solutions company, will be presenting the role of additive manufacturing as one of the key technologies that will enable the 'Factory of the Future at the annual Oracle OpenWorld conference, October 25 - 29, San Francisco.

Rich Garrity, VP & GM Vertical Solutions, Stratasys, will be a featured speaker at Oracle OpenWorld, discussing additive manufacturings role in the "Factory of the Future" to deliver on the promise of a smart, agile manufacturing workflow. Rich will describe additive manufacturing integration scenarios with adjacent manufacturing software systems and also present specific customer manufacturing stories from strategic industries including aerospace and automotive.
"The inclusion of Industry 4.0 applications at Oracle OpenWorld, this year, make it a natural fit for Stratasys additive manufacturing," said Danny Weber, VP Strategy and Strategic Alliances, Stratasys. "We invite attendees to come discuss how they can begin integrating additive manufacturing into their supply chain to improve production economics and explore new business models."
Conference attendees will have the opportunity to experience additive manufacturing first hand at the event as Stratasys will be showcasing its 3D printing solutions, including the Fortus 450mc and uPrint SE Plus 3D printers, as well as its Stratasys Direct Manufacturing parts-on-demand service.
For more than 25 years, Stratasys Ltd. (NASDAQ:SSYS) has been a defining force and dominant player in 3D printing and additive manufacturing - shaping the way things are made. Headquartered in Minneapolis, Minnesota and Rehovot, Israel, the company empowers customers across a broad range of vertical markets by enabling new paradigms for design and manufacturing. The companys solutions provide customers with unmatched design freedom and manufacturing flexibility - reducing time-to-market and lowering development costs, while improving designs and communications. Stratasys subsidiaries include MakerBot and Solidscape and the Stratasys ecosystem includes 3D printers producing prototypes and parts; a wide range of 3D printing materials; parts on-demand via Stratasys Direct Manufacturing; strategic consulting and professional services; and Thingiverse/GrabCAD communities with 5+ million free design components, printable files. With 3,000 employees and 800 granted or pending additive manufacturing patents, Stratasys has received more than 30 technology and leadership awards. Visit us online at: www.stratasys.com or http://blog.stratasys.com.
Featured Product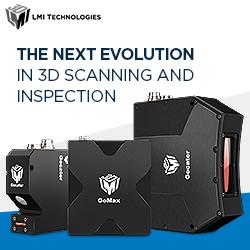 Every robot needs eyes to see, think, and do. Gocator® 3D smart sensors add powerful vision-guidance and inspection capability to industrial robots. You can use these sensors in a wide variety of factory automation applications. Pair them with scara, delta, and collaborative robots to create complete robotic solutions that deliver high-performance 3D results in vision-guidance, quality control inspection, and automated assembly with smart pick-and-place. Make your robot FactorySmart® with Gocator 3D smart sensors.