MIT Technology Reviews 2015 EmTech Conference (November 2-4) in Cambridge, Massachusetts
October 15, 2015: When most people hear the term "Italian Imports", they assume youre talking about award-winning designs for fast cars and stylish clothing. Or perhaps they remember their favorite cheese, pasta or glass of wine. However, Italys intersection between well-made, artisanal products and cutting edge design doesnt stop there. Italy has an important role in world manufacturing efforts as well as its efficiency. Its this very thing which continues to propel them into future growth.

As of 2014, Italy is the eighth largest exporter of world merchandise, with 7.5% of its total exports going to the U.S.. In the World Trade arena, Italy ranked #14 as a Foreign Direct Investor. In fact, Italian firms have increased their investments in the US by nearly 10 times in the past decade. This is an important indicator of global market durability. Italy has not stopped investing abroad despite the worldwide financial crisis, with their focus on the 3-D printing and robotics industries.
Italys contributions to 3D printing were included in Wohlers Report 2015. Wohers has been the distinguished, industry-leading report on the subject for two decades and referred to as the "bible" of 3D printing. Advanced economies see additive manufacturing (AM) as an opportunity to regain international manufacturing competitiveness. There is growing consensus amongst industry experts and politicians that those furnishing their industrial base with advanced technologies will be tomorrows global industry leaders. The broad-based deployment of additive manufacturing can have a pervasive impact and can transform multiple sectors and Italy is the 5th largest AM in the world.
In the future, development, manufacturing and business processes will change dramatically through generative manufacturing because this technology allows direct transformation of data into products. At the present time, national machine tool associations have come together on a single platform to discuss challenges and concerns about the 3D printing of metallic materials and to present them to EU policy makers. Italy is part of that and has established an impactful sub-group or sector association for additive manufacturing. Constantly improving upon their offerings, Italian companies are represented by FEDERMACCHINE, the federation of Confindustria who represent the Italian machinery producers of capital goods intended for industrial and handicrafts manufacturing processes.
The Italian Trade Agency (ITA) is the government body whose mission is to foster Italian investment and trade relations with foreign countries. To further its goals, the ITA headquartered in Rome, can rely on a world-wide network of 81 offices in 67 countries. They will be an official sponsor of MIT Technology Reviews 2015 EmTech Conference (November 2-4) in Cambridge, Massachusetts.
Since 1999 the EmTech conference has gathered the leading experts in the areas of technology, engineering, academic interests, startup, and management communities to provide insight into the innovations that shape the world and global business. The EmTech conferences provide opportunities to identify the most important new technologies and decipher their practical real world applications. As part of the Massachusetts Institute of Technology, EmTech enjoys access to cutting edge technologies and advancements which could affect virtually everyone on the planet.
The Italian Trade Agency will be at EmTech presenting its exciting developments in robotics, high powered laser technology and 3D printing:
● Undisputed leader in 3D laser machines, Prima Power is among main world players in the 2D laser segment with a wide range of top performance and highly efficient machines used in a multitude of fields all around the globe. For a long time the ecological aspects have been included among design criteria of all Prima Power products, which are developed according to the Green Means concept, combining sustainability and productivity. Some of the results of this approach are 1) a reduction of 64% of CO2 emissions thanks to the use of Prima Power servo-electric panel benders, 2) 82% of energy saved with servo-electric punching with ECOPUNCH technology, 3) about 13% of scrap material reduction with punch-shear technology and 4) over 40% reduction of CO2 emissions thanks to the use of latest generation lasers over the last four years.
● Wearable Robotics: Pensilia Srl. has created the first market available 5-axis, human-sized, anthropomorphic hand with actuation, sensory and control systems embedded in the palm, able to replicate real hand functions at humanlike speeds. Another example of Italian technologys innovation, includes a contribution from Wearable robotics SRl, in which a design in prosthetics makes use of a new tendon actuated transmission to grant patients extreme wearability, low weight and high transparency during use.
● The Borealis Project: 3D Printing and laser technology industrial applications which will create parts for machinery at a deposition rate of 2000cm3/h in, with just 30 second set-up times, all the way to printing sandstone buildings without human interaction. From architect to actuality in the stroke of a key. This will have wide reaching impact on industries such as aerospace, medtech, motorsports, architecture and more.
● Robots and Automatic Guided Vehicles (AGVs): A project called the Pan-Robot Project is currently underway to produce more advanced on-board camera systems and laser scanners to help the robots navigate warehouses using 3D maps under the guidance of a control center. AGVs will automate the warehouse phase of operations. This project will mean more efficiency and greater safety.
● Lucy: an algorithm based on smartly positioned photosensors, allowing it to redirect sunlight wherever one would need it, indoors or out!
Alberto Maria Sacchi from the Italian Trade Agency will be in Cambridge, MA for the EmTech conference and available for interview on Monday, November 2 through the afternoon of Wednesday, November 4, 2015.
About Alberto Maria Sacchi:
Born in Milan on July 1959, Alberto Maria Sacchi graduated in law after attending the classical studies at the Milan Institute "Leone XIII". He also attended in 1989, a Master in Business Administration at the SDA Bocconi and, at "Institut Supérieur des Affaires -HEC". He founded and managed a textile machinery group. From 2000 to 2005 Alberto Maria Sacchi was President of ACIMIT, the Italian Association of textile machinery manufacturers and, from 2000 to 2004, Vice-President of CEMATEX, Comité Européen Des Constructeurs De Machines Textiles. He became President of FEDERMACCHINE from 2006 to 2011 and is currently on its Board of Directors. He has been member of the Giunta and Cosiglio Direttivo of Confindustria. He is currently President and CEO of Meccano Group (http://www.meccano.com/).
About MIT Technology Review
MIT Technology Review, which is wholly owned by MIT, creates award-winning technology-related editorial content on a variety of platforms for an audience of millions of business leaders, innovators, and thought leaders, in six languages and in 147 countries. At www.technologyreview.com, readers access daily news and analysis, and the award-winning MIT Technology Review magazine has set the standard for technology publications since 1899. In addition to producing engaging live events, the company manages the global entrepreneurial organization MIT Enterprise Forum.
Featured Product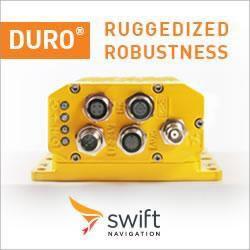 Duro® and Duro Inertial are enclosed dual-frequency RTK GNSS receivers. Designed and built to survive long-term, outdoor deployments, the easy-to-deploy Duro and Duro Inertial combine centimeter-accurate positioning with military ruggedness at a breakthrough price. Duro Inertial features an integrated IMU for continuous centimeter-accurate positioning in the harshest of outdoor deployments.