Inside 3D Printing Conference & Expo on December 3rd and 4th
Mumbai - The financial capital of the country and India's largest city will be hosting the inaugural edition of MecklerMedia's Inside 3D Printing Conference & Expo on December 3rd and 4th. The region is home to a diverse range of industries and a centre for finance, business, trade and fashion in India.

A unique feature to Inside 3D Printing Mumbai is the special Inside 3D Printing Experience Zone, which will be an educational and creative space to get to know all there about 3D Printing and its applications. Divide By Zero Technologies one of the key partners at Inside 3D Printing Mumbai will be introducing India's first gig show with 3D printed musical instruments.
The concert at Inside 3D Printing will feature a band made up of musicians from Berklee College of Music, United States. It will feature instruments created by Divide By Zero Technologies, including Uklele, Electronic Guitar, Darbuka, Flute, Shaker, bongo & Kanjeera. Swapnil Sansare CEO & Founder at Divide By Zero Technologies explains that "the instruments which will be used for the show were printed using Accucraft i 250+ 3D printer made right here in India". Watch out the teaser video of 3D printed ukulele music instrument on
https://www.youtube.com/watch?v=-PFPte4UUso&feature=youtu.be.
In celebration of this event in Mumbai, there is also an exciting challenge for all the Indian designers. MecklerMedia's Inside 3D Printing Design Challenge powered by Divide By Zero Technologies where Indian designers can participate and win 3D printers. Designers can fill out the free online entry form by Nov 6, 2015. For more details contact info@inside3dprinting.co.in.
Featured Product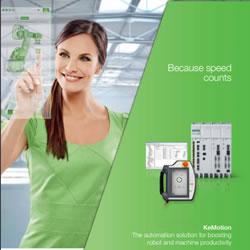 Best ergonomics and an intuitive user interface are key factors for efficient operation and monitoring. With the KeTop devices, high-performance, application-optimized hardware is available. The turnkey TeachView robotics user interface enables fast and easy teach-in. User-friendly HMIs are created with the easy-to-operate KeView visualization software - an optimum user experience is guaranteed.