On-site test at elderly care facilities in the US and EU in 2014; Field test in Spain in September, 2015; Features d-SLAM Yujin Robot's new machine vision technology
South Korea-based Yujin Robot (KOSDAQ: 056080), a leader in delivering robotic solutions, unveiled GoCart V2.0, the 2nd version of GoCart (http://gocart.yujinrobot.com/), the autonomous meal-transport robot designed to operate in all elderly and health care facilities during Robotworld Expo 2015.

Based on the feedback received during trade show participations and demonstrations in Germany, USA and Sweden last year, Yujin Robots Innovation Team moved forward developing a larger and stronger GoCart version to better meet their customers needs.
With this new GoCart V2.0 the Innovation Team travelled to Spain in order to conduct a field test during September 10 - 23, 2015. The field test has been carried out at Ave Maria Foundation, a care facility for people with intellectual disabilities located in Sitges, in conjunction with Robotnik Automation S.L.L. and the Robotics Institute for Dependency.
During the field test the team worked closely with the staff and managers at Ave Maria to find out the facilitys needs in meal, linen and other daily logistics and developed service scenarios to save time, cut costs and further improve the care of the residents. In addition, Yujin Robot and Ave Maria hosted a successful demonstration for local visitors from the city of Sitges and representatives from hospital, hotel and business associations.
GoCart combines the latest autonomous navigation and mobility technologies developed by Yujin Robot with state-of the-art meal-transport systems developed by ScanBox. GoCart has unprecedented flexibility and ease of use. It maps the environment and uses an array of sensors and cameras to autonomously carry out its deliveries without interfering with people or other objects. With its IoT-based interface, GoCart easily connects with any facilitys existing IT system including elevators and automatic doors and works with smartphones, tablets, PCs, and smart TVs.
About Yujin Robot Co. Ltd.
Based in Seouls Gasan Digital Complex, South Koreas biggest IT centre, Yujin Robot was founded with the goal of creating intelligent robots that help humanity. The company is dedicated to making the world a better place through robotics, liberating humanity from mundane tasks that take us away from activities that truly matter - like spending time with family and friends. Yujin Robots team of creative individuals focus on expanding the boundaries of robotics for the world of today and tomorrow.
About Ave Maria Foundation and the Robotics Institute for Dependency
The Ave Maria Foundation is a private non-profit care facility to support people with intellectual disabilities and their families, professionals and other institutions. Around 60 residents are living in this facility and 65 healthcare professionals are providing high-quality healthcare services.
The Robotics Institute for Dependency is a recently founded institute under the umbrella of the Ave Maria Foundation to improve quality of life of disabled people, their families and the care organizations and professionals, boosting the creation of innovative technological products to transform the way things are done today, in coordination with the main care associations in Spain.
About Robotnik Automation S.L.L.
Robotnik Automation S.L.L. is a leading company in the market for Service Robotics in Europe. Robotnik develops and manufactures own service robots (mobile robots and mobile manipulators), serves as distributor in Europe for other robot manufacturers and provides robotic turn-key solutions.
Featured Product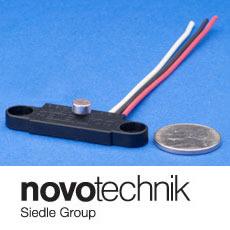 Vert-X 05E Series of dual angle/speed sensors. The series features easy mounting in small and narrow spaces with a 5 mm body depth and mounting flanges with metal inserts. The sensors make measurements only 6 mm from edge of product for close-to-wall measurement applications. Vert-X 05E Series sensors measure angles from 0 to 360°, rotational speed and direction with repeatability to 0.1°.