Weighing less than 43 grams
BRAY, England, November 12, 2015 -- Antrica, a worldwide supplier of H264 video encoding and streaming solutions, today unveiled the ANT-1772 UAV MICRO, its latest multichannel encoder for airborne and ground Drone encoding and streaming applications over IP. As the world's smallest dual-channel H.264 HD/SD encoding or decoding solution, weighing less than 43 grams.

The ANT-1772 Micro sets a new standard of performance for manned and unmanned airborne platforms, unmanned vehicles, and other robotic units. The ANT-1772 consumes less than 4 watts of power for 1080p30 encoding plus simultaneous PAL /NTSC encoding.
"With the market for unmanned flying and ground Drone systems growing exponentially, developers increasingly need miniaturized, low latency, low data rate, lightweight Video encoding solutions."
ANT-1772 UAV MICRO features simultaneous low-latency streaming of two sources from HD-SDI and analog composite signals ,together with 2 way serial data, audio and Micro SD card recording on board.. The miniature 45 x 45 x18mm board can be integrated easily into a drone design and offers extended temperature and voltage range for operation. As well as encoding the unit can act as a hardware decoder with HD-SDI, Micro HDMI and Composite outputs.
"Antrica has been providing an extensive range of video encoding and decoding solutions to a variety of applications and markets for over 15 years. The ANT-1772 is Antricas first solution specifically designed for the UAV Drone market and meets new standards for miniaturization " said Les Litwin Sales Director of Antrica.
ANT-1771 UAV MICRO is available as a PCB module for integration into UAV systems. The unit will be on display during the ISE show in Amsterdam February 2016.
About Antrica
Antrica is a UK company Manufacturing and selling a range of video encoders and decoders for CCTV Broadcast Signage AV and Medical markets. Video encoding at full HD 1080P60 and streaming over any LAN or WAN. Antrica has been in business for 15 years and rapidly growing as a technology supplier.
Featured Product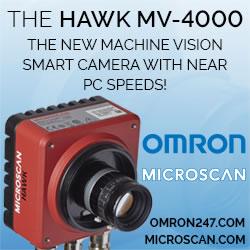 Awe-inspiring power and superior flexibility is sheathed within the contoured casing of the HAWK MV-4000. This smart camera builds upon the previous generation by quadrupling processing power and achieving real-time trigger response using an FPGA. Its state-of-the-art algorithms make it an excellent tool for any industry, whether the requirement be code reading, code verification, inspection, guidance, gauging or a combination of all four.