Mecânica, the only Brazilian event that encompasses the entire supply chain industry, seeks partnerships at FABTECH and invites the American market to São Paulo this May
SÃO PAULO--Attending FABTECH 2015 this week in Chicago, Reed Exhibitions Alcantara Machado, Brazils leading trade show organizer with global experience, intends to attract American companies to the 31st Annual International Trade Show Mecânica. Mecânica is the largest meeting for the machinery and manufacturing processes industries in Latin America, to be held May 17-21, 2016.

In the current state of Brazils economy, companies are seeking to increase efficiency, and see innovation in technology as essential in the path towards optimization. "There is great potential for advanced technology companies to bring innovative thinking to Brazilian industries, and the Mecânica fair is the ideal setting to bring these representatives together to exchange ideas and establish valuable business relationships," said Juan Pablo de Vera, CEO of Reed Exhibitions Alcantara Machado.
Mecânica 2016, the official meeting of the manufacturing industry, has been held annually for 57 years and boasts one of the largest audiences of Brazilian business events. The event will offer 1,500 exhibitors and 90,000 national and international buyers full access to over 900,000 net square feet of floor space. Six months out from the event, Mecânica 2016 already has 80 percent of the venue, the Anhembi Exhibits Pavilion, in São Paulo, reserved - with 1,100 brands and 380 companies confirmed to attend.
Reed defines its trade fairs and events as quality investments for national as well as international industries. Globally, the company holds more than 500 events and in Brazil alone, its fairs have generated more than R$3 billion in business results for exhibitors, totaling over 1.2 million attendees. "Our role as event organizers is to ensure we provide each industry or sector with the most beneficial business platform to improve their results," de Vera adds.
Mecânica 2016 is supported by 37 media partners and 19 representative associations, including ABFA (Brazilian Tool Industry Association), Abimei (Brazilian Machinery and Equipment Importers Association), Abinee (Brazilian Association of the Electric and Electronic Industry), ABS Soldagem (Brazilian Welding Association) and Sinafer-SP (São Paulo State Iron and Metal Artefacts and Tools in General Association).
Results prove Mecânica's success
Eduardo Trevisan, General Manager of Deb'Maq Brazil, one of the companies attending the event in 2016, says, "Mecânica represents quantity and quality in terms of its audience, proven business results and an effective and reliable investment. Our participation in last years event resulted in a 42 percent increase in business proposals immediately following the show. Each year Deb'Maq sees value in participating in the leading trade shows for the sector and Mecânica continues to be on our list."
Results from Mecânica 2014 prove the success of the show as one of the top in the market, generating R$500 million in business results for exhibitors, featuring over 100,000 visitors and a 98 percent satisfaction rating among visitors and exhibitors.
Event: 31st Annual International Trade Show Mecânica
Date: May 17-21, 2016
Parque de Exposições do Anhembi, São Paulo, Brazil
Av. Olavo Fontoura, 1.209 - Santana - São Paulo - SP - Brazil
Website: http://mecanica.com.br
About Reed Exhibitions Alcantara Machado
Reed Exhibitions Alcantara Machado operates in Brazil through its offices in São Paulo, Recife and Ribeirao Preto. With a portfolio of around 32 brands throughout the country, the group brings the best practices in exhibition events to Brazil, with the experience of a global leader in the market.
To attend an event organized and promoted by Reed Exhibitions Alcantara Machado means to participate in a networking showcase that features about 1 million buyers a year in Brazil alone. Besides Brazil, Reed Exhibitions operates in 42 countries and organizes over 500 events throughout the Americas, Europe, the Middle East and Asia.
Featured Product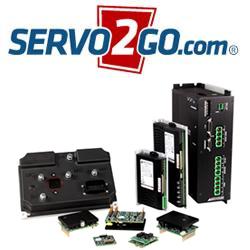 Engineered to drive brushless and brush servomotors in torque, velocity or position mode, Servo2Go.com offers a broad selection of servo drives in a wide range of input voltages and output power levels.