CEO Kevin Czinger to Speak on 'Dematerializing Auto Manufacturing at Annual Conference that Focuses on 3D Printing Innovation
SANTA CLARA, Calif.--Divergent Technologies today announced Founder and CEO Kevin Czinger is a featured speaker at the 3D Printing USA 2015 conference and exhibition being held November 18 & 19 in Santa Clara, California. Mr. Czinger will speak on "Dematerializing Auto Manufacturing" and offer an innovative alternative to traditional auto manufacturing that dramatically reduces pollution and capital costs through a proprietary platform that incorporates 3D printing. In addition, Divergent Technologies widely acclaimed supercar built upon this technology, the Blade, will be on display for conference attendees on the 18th. The "Dematerializing Auto Manufacturing" presentation will be held on Wednesday, November 18, 2015 at 4:45PM in Great America Meeting Room 3.

"3D printing is ushering in a 21st century industrial revolution aimed at encouraging innovation in manufacturing while reducing its harmful environmental impacts," said Kevin Czinger, founder & CEO, Divergent Technologies. "In our case, we are taking aim at the automotive industry. 80 to 90 percent of the environmental and health damage caused by cars comes from the manufacturing, not the tailpipe emissions. That simply is not sustainable: weve produced two billion cars total to date, which will rise to six billion over the next 35 years. Weve developed a better way to make incredible cars and reduce greenhouse gas emissions by as much as 70 percent. I look forward to sharing our vision of a sustainable path forward for auto manufacturing at 3D Printing USA 2015."
The centerpiece of Divergent Technologies innovative approach to car manufacturing is the Blade, the worlds first 3D-printed supercar. The Blades chassis is constructed from its unique and proprietary 3D metal printed connectors called Nodes, which join aerospace carbon fiber into an incredibly light (102 pounds) and strong frame. The Blade is also equipped with a 700-horsepower bi-fuel engine that goes from 0-60 mph in 2.5 seconds, faster than a Tesla Model S, making it one of the greenest and most powerful cars ever created.
The Blade will be showcased both November 18 & 19 as part of 3D Printing USA 2015, an annual conference and exhibition that covers the current and future markets and technologies of 3D printing. This years theme is "The Next Step for Additive Manufacturing."
For more information on the Blade and to download a media press kit, visit www.divergentmicrofactories.com/press/.
For more information on Divergent Technologies, visit www.divergenttech.com.
Featured Product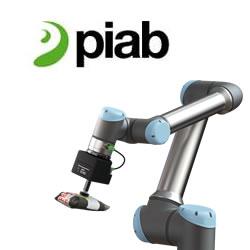 Piab's Kenos KCS gripper enables a collaborative robot to handle just about anything at any time. Combining Piab's proprietary air-driven COAX vacuum technology with an easily replaceable technical foam that molds itself around any surface or shape, the gripper can be used to safely grip, lift and handle any object. Standard interface (ISO) adapters enable the whole unit to be attached to any cobot type on the market with a body made in a lightweight 3D printed material. Approved by Universal Robots as a UR+ end effector.