Industry-proven M8 technology from Lumberg Automation provides a robust solution for the most demanding network requirements
ST. LOUIS - November 24, 2015 - Belden Inc., a global leader in signal transmission solutions for mission critical applications, introduces the new M8 5-pole B-coded cordsets. With an extended power range and snap and snap/thread attachments, the new cordsets ensure high performance reliability and make installation in the field easy, even when available space is limited.

"With the Industrial Internet of Things (IIoT) growing in popularity, our world is becoming even more interconnected and dependent on reliable network communication, which is contributing to tremendously high performance standards and power requirements across all industries," said Fabian Seymer, product manager at Belden. "Engineers need a reliable solution that provides greater power at a smaller size while ensuring the highest performance in the field."
The M8 5-pole B-coded cordsets are available in both male and female, and deliver the highest application flexibility on the market. The new connectors can be used in combination with Lumberg Automations new LioN-Power system, featuring M12 technology and multiprotocol functionality, creating a one-stop solution for meeting the demanding industrial connectivity requirements of the IIoT.
The industry-proven M8 technology offers outstanding handling characteristics and meets certification according to global industry standards, such as Underwriters Laboratories (UL) 2238 for cable assemblies and fittings in industrial control and signal distribution and EN61076-104 for connectors in electronic equipment.
The M8 5-pole B-coded cordsets facilitate reliable transmission of power and signals via a compact interface to small electronic drives and sensors, making them an ideal solution for miniature robotics applications.
For more information on the M8 5-pole B-coded cordsets, visit
http://www.lumberg-automationusa.com/downloads/PB00043AG.pdf.
In a world moving toward interoperability, visibility is vital to operators as they face increasing demands to receive, analyze and share data. Beldens industrial connectivity solutions address these needs head on. With more connected machines, increasing data volumes and productivity demands at an all-time high, customers in challenging environments can count on Belden cable, Lumberg Automation and Hirschmann industrial connectors for a complete communications infrastructure designed to last. Beldens customized systems provide robust performance and reliability for a wide range of industrial automation applications.
About Belden
Belden Inc., a global leader in high-quality, end-to-end signal transmission solutions, delivers a comprehensive product portfolio designed to meet the mission-critical network infrastructure needs of industrial, enterprise and broadcast markets. With innovative solutions targeted at reliable and secure transmission of rapidly growing amounts of data, audio and video needed for todays applications, Belden is at the center of the global transformation to a connected world. Founded in 1902, the company is headquartered in St. Louis and has manufacturing capabilities in North and South America, Europe and Asia. For more information, visit us at www.belden.com; follow us on Twitter @BeldenInc.
Featured Product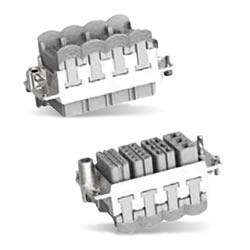 TE Connectivity's HDC Dynamic Module integrates the Dynamic series flexible signal and power solutions and the HDC Heavy Duty Connector series to form a solution of harsh environment connectors. TE's HDC Dynamic Module offers the top features of the two series. It uses the contact concept of the Dynamic series, with its proven performance in industrial uses and its cost effectiveness compared to legacy cutting contacts. The HDC connectors make the module a reliable solution for harsh environments. TE's HDC Dynamic Module supports 2A/32V to 40A/300V performance and 3 positions to 48 positions.