Hypertherm's Robotic Software Team presents its new rebranded website.
Montreal, CANADA, November 26, 2015 - Hypertherms Robotic Software Team presents its new rebranded website. The launch introduces the new Robotmaster logo, icon, and tagline. As part of the rebranding, the company has completely refreshed its current Robotmaster brand, which will see the implementation of a new visual identity and online presence to support future plans and growth.

Created with multi-device compatibility and a user-friendly experience firmly in mind, the rebranded website is designed using the latest technology to ensure compatibility with todays browsers and mobile devices. The Newsroom section is a great way of reading regular press releases and informative content as well as keeping up with all of the latest news. Additionally, visitors are strongly encouraged to follow the Robotmaster brand on all social media platforms. To view the rebranded website, please visit www.robotmaster.com
About Hypertherm Robotic Software
Hypertherms Robotic Software Team develops Robotmaster, off-line programming software that provides quick and easy tools for industrial robotics and manufacturing. This allows robot programmers to drastically reduce programming time and effort by adopting Robotmaster while maximizing a rapid return on their investment. Robotmaster software is ideally suited to program robots for such tasks as trimming, cutting, welding, de-burring, polishing, dispensing, grinding, spraying, painting and 3D machining, while supporting most industrial robot brands. Learn more at www.robotmaster.com.
About Hypertherm
Hypertherm designs and manufactures advanced cutting products for use in a variety of industries such as shipbuilding, manufacturing, and automotive repair. Its product line includes plasma, laser and waterjet cutting systems, in addition to CNC motion and height controls, CAM nesting software, robotic software and consumables. Hypertherm systems are trusted for performance and reliability that result in increased productivity and profitability for hundreds of thousands of businesses. The New Hampshire based companys reputation for cutting innovation dates back nearly 50 years to 1968, with Hypertherms invention of water injection plasma cutting. The 100 percent associate owned company, consistently named a best place to work, has more than 1,400 associates along with operations and partner representation worldwide.
###
Media contact:
Matthew Nalbandian
Marketing and Media
Hypertherm Robotic Software Inc.
Phone: (514) 225-2206
Fax: (514) 221-3661
matthew@robotmaster.com
Featured Product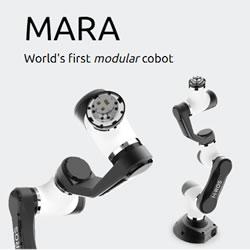 Built out of individual modules that natively run ROS 2.0, MARA can be physically extended in a seamless manner. The modular robot arm delivers industrial-grade features such as a high-speed real time enabled ROS 2.0 communication interface, security protections or a hardware power lifecycle.