More than 600 attendees learn about innovative CNC manufacturing technology and the open possibilities of Okuma machine tools to improve productivity and profitability.
Charlotte, NC December 17, 2015 -- Okuma America Corporation, a world-leader in CNC machine tool manufacturing, hosted more than 600 customers, partners and distributors at its Manufacturing Excellence and Technology Showcase events, December 8-10, 2015. The three-day event, held at Okuma Americas headquarters and Aerospace Center for Excellence, highlighted emerging CNC machining technologies with a special concentration on aerospace manufacturing. Attendees came from Canada, Mexico and from 28 states in the U.S. to learn about cryogenic machining, IIoT, additive manufacturing and many other leading-edge technologies.

The event included a wide array of learning sessions and featured machine demos from top CNC machining experts. Attendees learned how to apply emerging technologies such as eco-friendly cryogenics from 5ME and additive manufacturing from RPM Innovations to improve productivity and increase profitability. An overflow audience attended a session about the IIoT (Industrial Internet of Things), which demonstrated how connectivity in the shop can reveal comprehensive real-time data that can be used to maximize productivity. Attendees also learned how Okumas open OSP control and OSP suite allow each user to customize the OSP experience to specifically address their unique manufacturing needs.
Demonstrations featured exotic material cutting - such as Inconel and titanium - as well as stainless steel and aluminum. The demos were relevant to a wide variety of industries, including aerospace, automotive, construction/farming (heavy equipment), die/mold, firearms/munitions, medical, oil/energy, and general job shops.
Members of Partners in THINC demonstrated how peripheral equipment such as tooling, gaging, workholding and automation can be integrated with Okuma technology to increase productivity.
CNC Machining Technology Demonstrations
Each demonstration gave attendees tips on how they can utilize breakthrough technologies to create a competitive advantage in their marketplace. Examples included:
* The benefits and effects of machining in a cryogenic state
* Using high-pressure coolant to save money and improve part quality
* How multitasking machines and specialty tooling can improve efficiency
* Achieving process improvements with proper tool path generation (software/tooling) and taking advantage of the newest developments in metal cutting and machine tool technologies
* Okuma App Store and OSP suite - Machine tool apps can significantly impact the effectiveness and efficiency of machine tools
Keynote speaker, Robert Mudge from RPM Innovations, discussed laser deposition technology (LDT) and how a work cell that combines additive and subtractive technologies has the potential to increase productivity and quality.
Attendees were able to see more than 20 CNC machines cutting parts including a titanium engine case and a bladed rotor, stainless steel shaft and a turbine blade, and an aluminum rocker arm and bracket hinge. Machines on display included:
GENOS L300-M (Kuka Cell) - Horizontal Lathe
GENOS L300-MYW - Horizontal Lathe
GENOS L250E (Barfeed) - Lathe
LB3000 EXII MYW - Lathe
VTM-100 - Lathe with Live Tooling
2SP-150H - 2-Spindle Lathe
LU3000 EX 2SW600 - 4-Axis Lathe
LOC 650 - Oil Country 4-Axis Lathe
LU-S1600 - Compact 4-Axis Lathe
MULTUS B300 (Robot) - Multitasking Lathe
MULTUS U3000 - Multitasking Lathe
MULTUS U4000 - Multitasking Lathe
MB-5000H - Horizontal Machining Centers
MA-12500H - Horizontal Machining Center
MU-10000H - 5-Axis Horizontal Machining Center
GENOS M560-V, Vertical Machining Center
MU-6300V - 5-Axis Vertical Machining Center
MU-8000V - 5-Axis Vertical Machining Center
About Okuma America Corporation
Okuma America Corporation is the U.S.-based sales and service affiliate of Okuma Corporation, a world leader in CNC (computer numeric control) machine tools, founded in 1898 in Nagoya, Japan. The company is the industrys only single-source provider, with the CNC machine, drive, motors, encoders, and spindle all manufactured by Okuma. The company also designs their own CNC controls to integrate seamlessly with each machine tools functionality. In 2014 Okuma launched the Okuma App Store, the industrys only centralized online marketplace for machine tool apps and related content. Along with its extensive distribution network (largest in the Americas), and Partners in THINC, Okuma is committed to helping users gain competitive advantage through the open possibilities of machine tools, today and into the future. For more information, visit http://www.okuma.com or follow us on Facebook or Twitter @OkumaAmerica.
About Partners in THINC
Partners in THINC is a collaboration network of more than 40 industry leaders who come together to solve problems and explore new productivity ideas for real-world manufacturers. With the open architecture, PC-based OSP control as its nucleus, Partners in THINC brings specialized equipment, expertise and a commitment to provide the best possible integrated solutions to the end-user. For more information, visit http://www.okuma.com/partners-in-thinc.
Featured Product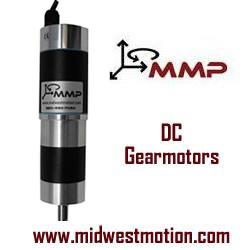 Midwest Motion Products, Inc. (MMP), is a well-established, healthy, & growing Family Owned Business, founded in 2001. MMP specializes in cost-effective standard DC Gearmotors, Motors, Controls, and ancillary equipment. Known world-wide for our "Lightning Fast" delivery capabilities, you can have a Standard Planetary or Right Angled DC Gearmotor BUILT and SHIPPED, often on the very same day you call. Offering Brushed and Brushless designs, with winding voltages ranging from 12 VDC to 120 VDC, we can deliver your "Robust & Reliable" samples within HOURS, instead of weeks, or even months.