Major Machine Tool Investment: Specialized 5 axis mill doubles production capacity for company's robot track product lines
Güdel US announced it has completed a $2.5

million investment for a specialized 5 axis mill
now in production at the company's Ann Arbor
manufacturing campus. Dubbed the LFM-3,
the tool was designed and developed by Güdel
Switzerland, and is optimized for production of
the company's robot TrackMotion foor mounted
and overhead tracks, and 2-6 axis gantry robots.
"Güdel is committed to local manufacturing in key
markets, and the growth of our North American
business drove this investment" noted Joe
Campbell, vice president sales & marketing and
head of the products business. "Our customers
demand the highest quality and shortest lead
times, and the LFM will help us deliver on both
counts as we continue to grow our business."
The LFM is one of the biggest 5 axis machine
tools in the state of Michigan, and is optimized
for milling, drilling, reaming, boring and tapping
processes. With a 16 meter bed, the LFM can
machine 5 sides of a part up to 14.5 meters long.
It features a #50 taper mill head, a 5,000 rpm
spindle, and a 30 position tool changer. Controls
are Heidenhein, model TNC 630 CNC.
The LFM-3 is the 3rd of 4 such machines
developed and built by Güdel. Units 1 and 2
are in production at Güdel headquarters in
Langenthal, Switzerland. Unit 4 is being installed
at Güdel China.
Featured Product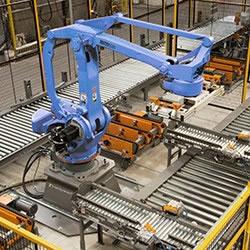 Honeywell Intelligrated has deep experience implementing robotic solutions that work seamlessly with existing automated equipment and is recognized by the Robotic Industries Association as a certified robot integrator. The company's extensive robotic integration capabilities include solution development, design engineering and project management, complete manufacturing capabilities, installation and commissioning, and lifecycle support services.