New Veratus Precision Optical Encoder
BEDFORD, Mass., Jan. 5, 2016 /PRNewswire/ -- Celera Motion introduces the new Veratus™ precision optical encoder series from MicroE, designed for ease of installation and robust performance in a wide range of advanced industrial, medical, microelectronics and scientific applications. The automatic calibration feature of Veratus makes it easy for OEMs to get their system up and running quickly without any complicated set-up procedures, tools or additional electronic components.

Veratus is the first MicroE encoder built using the company's new VeraPath™ optical technology, delivering the reliability, signal stability, and dirt immunity required in many applications. VeraPath technology is designed to filter out signal disturbances caused by scratches, debris or contamination and effectively eliminates accuracy errors resulting from flatness variations typical with metal scales. The results enable users to achieve high levels of accuracy with both metal tape and glass scales and make Veratus a robust solution for long and short travel linear axes and for rotary axes.
Since all interpolation, automatic gain control, and signal processing is performed in the sensor head, no additional special adaptors are required. Veratus is capable of resolutions down to 20 nanometers and is the smallest encoder system in its class, with a sensor body that is only 35 x 13.5 x 10mm (1.38 x 0.53 x 0.39 inches).
The contamination resistance of VeraPath technology combined with its compact size and ease of set-up, as well as its availability with both digital and industry-standard 1 Vpp analog output, make Veratus the ideal encoder for a variety of applications including precision linear and rotary positioning stages, coordinate measuring machines, optical scanning and inspection, medical robotics, laboratory and pharmacy automation, printed circuit board assembly and electronics packaging, and industrial robotics.
Shipping now, Veratus will be available in OEM production quantities in March 2016.
About Celera Motion
Celera Motion's precision component and subsystem solutions solve application-specific challenges for technology-driven medical and advanced industrial original equipment manufacturers around the world. We welcome the opportunity to discuss how our motion control expertise can help you accelerate your innovation. Bring the challenge. We'll build the solution.
About the Celera Motion product brands
The MicroE brand of miniature precision optical encoders is available in several form factors and mounting options with incremental and absolute interfaces and resolutions up to 1.2nm. A wide selection of rotary and linear scales are available delivering accuracy up to 1ÎĽm.
Offering the highest level of design and application expertise, the Applimotion brand of direct drive motors and actuators provide a wide range of solutions that are optimized to solve its customers' motion control system challenges. Applimotion provides optimized solutions ranging from direct drive motor components to fully engineered, validated and tested products and value-add assemblies.
For more information, please visit www.celeramotion.com.
Featured Product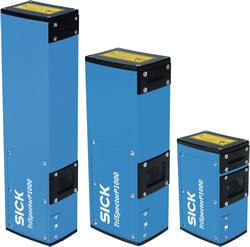 Take your quality inspections to the next level with tailor-made 3D solutions from SICK, Inc. The TriSpector1000 is a stand-alone, configurable 3D vision sensor that reliably inspects objects regardless of variations in color, height, shape, or position. It is suited for solving quality control issues and can be used for volume & thickness measurement and inspection of box integrity. Check out SICK's quality inspection solutions at Pack Expo 2019 in Booth #LS-6419.