SimScale, the full-cloud engineering simulation platform, links up with TraceParts to provide its users with access to 100+ million 3D CAD models of supplier certified components
Saint-Romain, France - February 24, 2016 - TraceParts, one of the world's leading providers of 3D digital content for engineering, and SimScale, an engineering simulation platform aiming[n1] [TB2] to revolutionize the way engineers, designers, scientists, and students design products, have concluded a partnership agreement for publishing CAD data.

Being full-cloud, SimScale offers a hassle-free experience to its users, eliminating traditional installation, licensing fees, dedicated computer hardware and regular updates or upgrades.
The access to TraceParts CAD data enables SimScale users to import 3D models directly into the SimScale browser-based simulation platform to offer a comprehensive set of analysis capabilities, including Fluid Dynamics, Structural Mechanics, and Thermodynamics.
Individuals, small businesses, and large companies worldwide have introduced SimScale into their workflow to virtually test and validate preliminary designs, reducing significantly the number of costly physical prototypes.
When choosing its partner, SimScale turned to TraceParts who has an excellent track record for publishing and offering 3D CAD models for download since 2001. This new partnership will further expand TraceParts' growing publishing network of 14.5 million design engineers.
SimScale users interested in searching for a CAD model on TraceParts, can find the page directly at www.tracepartsonline.net/ws/simscale.
Companies interested in joining the TraceParts Publishing Network can visit the page www.traceparts.com/tppn/ or contact TraceParts by email at info@traceparts.com.
Industrial parts vendors looking for more information about publishing their 3D product catalog can contact TraceParts by email at info@traceparts.com or visit the traceparts.com website.
About TraceParts
TraceParts is a world-leading digital engineering 3D content company, offering progressive business solutions through powerful web based products and services. TraceParts brings targeted and cost-effective market penetration to parts vendors, in all sectors of industry.
The TracePartsOnline.net CAD portal is freely available to millions of CAD users worldwide, with hundreds of supplier catalogs and 100 million CAD models and product datasheets suitable for the Design, Purchasing, Manufacturing and Maintenance processes. For more information about TraceParts, please visit www.traceparts.com
Featured Product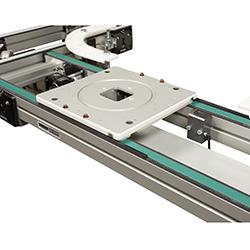 Dorner's 2200 Series Precision Move Pallet Systems are ideal for assembly automation. With features such as an innovative timing belt conveyor design and industry best pallet transfers, they get your product to the exact location, at the exact time and in the exact position it needs to be. They are now available with new options such as heavy load corner modules with 150 lb. capacity and 180 degree tight transfer corners for compact loops.