Independent healthcare research firm KLAS reported RIVA leads in improving productivity and minimizing medication spending.
RIVA, the fully automated IV compounding system developed by ARxIUM, has been recognized as the highest performing IV robot by independent healthcare research firm KLAS. The rating was announced in its "Pharmacy 2016: Are You Partnered to Reduce Costs?" report, which surveyed hospital executives and pharmacy directors about value-based care initiatives and other topics.

RIVA's overall performance score of 85.9 was the highest for IV robots evaluated and scored more than 20 percent higher than its closest competitor. KLAS also reported that RIVA leads in accuracy and patient safety, and customers feel it is more reliable than the competition. In addition, RIVA was rated the top IV robot for improving staff productivity and minimizing medication spending.
"As decreasing reimbursements and global healthcare reform initiatives reshape capital expenditures, hospital administrators are looking for ways to reduce pharmacy costs," said Dr. Niels Erik Hansen, president and CEO of ARxIUM. "The latest KLAS report proves RIVA is meeting that need, while also increasing accuracy, patient safety and efficiency. Additionally, continued pharmacy recalls, heightened regulations and expensive medication outsourcing demonstrate the need for RIVA's unmatched technology."
RIVA is engineered with multiple safety technologies and prepares IV medications in an aseptic ISO Class 5 environment with laminar airflow. RIVA units have been installed worldwide and have cumulatively produced millions of IV doses safely and accurately. RIVA was recognized by KLAS as the Category Leader in "Pharmacy Automation: IV Robots" in its "2015 Best in KLAS: Medical Equipment & Infrastructure" report.
KLAS report citations:
"Pharmacy 2016: Are You Partnered To Reduce Costs," March 2016. © 2016 KLAS Enterprises, LLC. All rights reserved. www.KLASresearch.com.
"2015 Best in KLAS: Medical Equipment & Infrastructure," November 2015. © 2015 KLAS Enterprises, LLC. All rights reserved. www.KLASresearch.com.
About ARxIUM
Based in Winnipeg, Manitoba and Buffalo Grove, Illinois, ARxIUM delivers best-in-class technology and unparalleled expertise to help pharmacies of all sizes improve safety, productivity and efficiency. The company provides scalable, comprehensive solutions for every segment of the pharmacy market. ARxIUM's offering includes automated compounding, packaging and dispensing, compliance packaging management, inventory control and storage, workflow and scheduling software, production and workflow design, and technical consulting and implementation assistance, among other services. The company is the first to offer a Total Dose Solution, a customizable, end-to-end solution for oral-solid and IV dose preparation. For more information, visit www.arxium.com.
Featured Product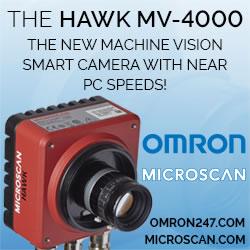 Awe-inspiring power and superior flexibility is sheathed within the contoured casing of the HAWK MV-4000. This smart camera builds upon the previous generation by quadrupling processing power and achieving real-time trigger response using an FPGA. Its state-of-the-art algorithms make it an excellent tool for any industry, whether the requirement be code reading, code verification, inspection, guidance, gauging or a combination of all four.