Endeavor Robotics, established by Arlington Capital Partners, to focus on the defense, public safety and industrial markets
BEDFORD, Mass., April 4, 2016 /PRNewswire/ -- iRobot Corp. (NASDAQ: IRBT), a leader in delivering robotic technology-based solutions, today announced that it has closed the previously announced sale of its Defense & Security business to Arlington Capital Partners for up to $45 million in total consideration, including a contingent payment based on achieving certain milestones. Proceeds from the sale will be used for iRobot's previously announced $85 million Accelerated Share Repurchase.

As announced on February 4, the transaction enables iRobot to solidify its position as the leader in diversified Home Robots and focus on technologies for the connected home. A private, standalone company, Endeavor Robotics has been established by Arlington Capital Partners to focus on the defense, public safety and industrial markets.
"The closing of the Defense & Security business sale marks a new beginning for iRobot as we put our full focus on the home," said Colin Angle, chairman and CEO of iRobot. "Successful new product introductions including Braava jet and Roomba 980 point to significant growth opportunities in the consumer robotics market. We look forward to capitalizing on our home-focused strategy through new consumer products and technologies for the connected home, continued expansion in key international markets including China, and increased investment in global marketing campaigns."
About iRobot Corp.
iRobot designs and builds robots that empower people to do more. The company's home robots help people find smarter ways to clean and accomplish more in their daily lives. Its remote presence robots enable virtual presence from anywhere in the world. iRobot's portfolio of solutions feature proprietary technologies for the connected home and advanced concepts in navigation, mobility, manipulation and artificial intelligence. For more information about iRobot, please visit www.irobot.com.
For iRobot Investors
Certain statements made in this press release that are not based on historical information are forward-looking statements which are made pursuant to the safe harbor provisions of the Private Securities Litigation Reform Act of 1995. This press release contains express or implied forward-looking statements relating to, among other things, the compensation for the divestiture of the Company's Defense & Security business unit and iRobot Corporation's expectations concerning management's plans, objectives and strategies. These statements are neither promises nor guarantees, but are subject to a variety of risks and uncertainties, many of which are beyond our control, which could cause actual results to differ materially from those contemplated in these forward-looking statements. Existing and prospective investors are cautioned not to place undue reliance on these forward-looking statements, which speak only as of the date hereof. iRobot Corporation undertakes no obligation to update or revise the information contained in this press release, whether as a result of new information, future events or circumstances or otherwise. For additional disclosure regarding these and other risks faced by iRobot Corporation, see the disclosure contained in our public filings with the Securities and Exchange Commission including, without limitation, our most recent Annual Report on Form 10-K.
Featured Product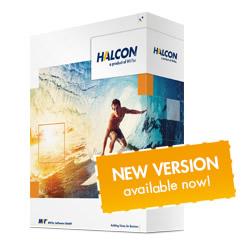 The newest version of MVTec HALCON is here to solve all of your machine vision tasks at utmost speed and robustness! Deep learning functions, like pixel-precise semantic segmentation or object detection, help you to identify and classify objects and flaws more flexibly and easier than ever before - HALCON extracts relevant image information automatically. Try it for free here!