The largest professional 3D printing event worldwide is confirmed to run alongside RoboUniverse and the Virtual Reality Summit at the Korea International Exhibition Center (KINTEX) on June 22-24, 2016.
(New York, NY - April 20, 2016) - Rising Media, Inc. and 3DR Holdings revealed program details for the Inside 3D Printing Conference & Expo in Seoul, taking place alongside RoboUniverse Conference & Expo and the Virtual Reality Summit in association with KINTEX (Korea International Exhibition Center).

Now in its third year, Inside 3D Printing Seoul has established itself as the premier professional 3D printing conference and expo in Korea. RoboUniverse is returning to KINTEX for its second year, whereas this is the first edition of the Virtual Reality Summit in Seoul, following its successful series launch in New York earlier this year.
Keynotes for Inside 3D Printing Seoul have been confirmed from industry leaders Tyler Benster, General Partner, Asimov Ventures; Jonathan Jaglom, Chief Executive Officer, MakerBot; Terry Wohlers Principal Consultant and President, Wohlers Associates, Inc.; and Nikolai Zaepernick Vice President, Head of Strategy & Business Development, EOS.
Inside 3D Printing Seoul also features vertical tracks focusing on 3D printing applications in the business, manufacturing, medical, and metal spaces; a startup pitch, where early-stage 3D printing companies will compete for a KRW 5,000,000 convertible SAFE, courtesy of Asimov Ventures; and the 3D Print Design Show co-produced by Digital Hands, where 3D artists and designers will display their innovative work to the public.
Confirmed speakers for RoboUniverse Seoul include:
• Dr. Guy Hoffman, Assistant Professor, School of Communication at IDC Herzliya, and co-director, IDC Media Innovation Lab
• Chang Jae-Ho, Ph.D., Senior Research, KITECH, CEO FRTechnology
• Choi Jun-Ho, Ph.D., Principal Research Scientist, KIST
• Colin Kang, CEO, YSTT, adept
• Andy Perez-Benzo, Founder and CEO, AeroAnalytics
The Virtual Reality Summit in Seoul has also confirmed a variety of local and international speakers, including: Lee Byung-Ki, COO, Gretech; Choi Jung-Hwan, VP, Director of VR Business, Skonec Entertainment; Stephanie Llamas, Director of Research & Head of VR Strategy, SuperData Research; Ahn Mu-Jung, Director, LG NSYS; Albert "Skip" Rizzo, Director for Medical Virtual Reality and Research Professor, Institute for Creative Technologies; and Choi Young-Jae, CSO of POLARIANT.
Prices increase for Inside 3D Printing Seoul on April 22, so register before to save with early bird pricing. For more information and to register for Inside 3D Printing Seoul, visit inside3dprinting.com/seoul.
The early bird deadline for RoboUniverse and the Virtual Reality Summit is April 29. For more information and to register, visit robouniverse.com/seoul and virtualrealitysummit.com/seoul.
If your company is interested in sponsoring or exhibiting in Seoul or at an upcoming event, please contact sponsorship@risingmedia.com.
About 3DR Holdings
3DR Holdings, LLC invests in media properties related to 3D Printing, Robotics and Frontiertech.
About Rising Media
Rising Media is a global events and media producer excelling in Internet and technology-related events and content. Events include Inside 3D Printing, RoboUniverse, Virtual Reality Summit, Data Driven Business, Building Business Capability, Predictive Analytics World, Text Analytics World, eMetrics Summit, Conversion Conference, AllFacebook Marketing Conference, Search Marketing Expo, Affiliate Management Days and Web Effectiveness Conference in the USA, United Kingdom, Germany, France, Dubai, India, China, Korea, Singapore, Australia, Brazil.
For more information, please visit www.risingmedia.com.
For press inquiries, please contact media@risingmedia.com.
Featured Product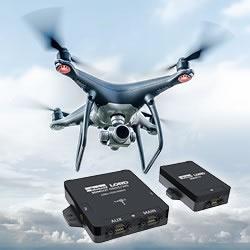 The C-series high performing inertial sensor package provides an OEM form-factor that is optimized for size and weight in Off Highway, Unmanned Ground Vehicles/Mobile Robots and Unmanned Aerial Systems. It's compact and low-profile anodized aluminum housing can be connected directly to a printed circuit board using a UART header or a Samtec FFSD ribbon cable and 2-56 fasteners.