Detect and Repel Drones Automatically
San Francisco, USA / Hamburg, Germany - April 26, 2016 - Dedrone, the world market leader for drone detection, has now integrated a jamming device for the repulsion of non-military drones in its drone warning system: in the event of a drone alert, the jammer—made by the German company HP Wuest—is activated automatically and stops approaching UAVs by transmitting a jamming signal.

"Our core competency is the timely, reliable detection of civilian drones", says Dedrone CEO Joerg Lamprecht, "but our clients in government circles, in particular, have frequently asked us about technology that is capable of actively repelling the identified drones. By integrating the jammer into our platform, we are now able to offer them an effective, automated all-round solution."
First Detect, Then Repel
DroneTracker is equipped with various sensors and intelligent pattern recognition software. As soon as DroneTracker has identified a drone, the jammer is activated via an interface and transmits electromagnetic waves which interfere with the radio signal between remote control unit and drone. If a drone is flying on automatic pilot, the GPS signals required for navigation can also be jammed. In both cases, the effect is the same: the drones are disoriented and the manufacturers pre-programmed safety procedure generally cuts in, meaning that the drone flies back to where it started from, lands immediately, or remains hovering in mid-air.
"In general, remote-controlled drones only operate in a certain frequency range", explains Alexander F. Wuest, CEO of HP. "Our jammer is configured to specifically target the drones frequency range and stop it without causing any damage."
However, not every organization is permitted to use jammers, because there is a risk of them interfering with other radio and Wi-Fi connections in the vicinity. "Use of the jammer is therefore reserved primarily for the protection of government installations, major event venues and prisons against drone attacks," explains Lamprecht.
Depending on requirements, other third-party products such as warning lights, smoke grenades, automatic roller blinds or sirens can also be integrated into the DroneTracker platform via enhanced API access.
About Dedrone
Dedrone was founded in 2014 and is the international market and technology leader in the field of drone detection. DroneTracker, which was developed by Dedrone, provides early warning of illegal UAVs and is used to protect industrial plants, government buildings and other critical infrastructure installations against smugglers, spies and terrorist attacks. Dedrone, based in San Francisco, California, has the backing of reputable European and American investors. Development and production operations are based in Kassel, Germany.
About HP Wuest
H.P. Marketing & Consulting Wuest GmbH, founded in Northern Germany in 1982, is one of the leading suppliers of jamming systems worldwide. HPs jamming devices protect military personnel and VIPs all over the world against remote-controlled IED attacks. HPs jamming systems are NATO certified and field proven. Also, HPs systems are used to provide enhanced security for state visits to Germany.
Featured Product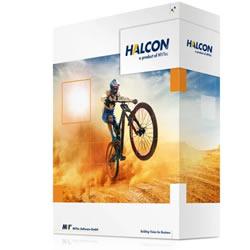 MVTec HALCON is the comprehensive standard software for machine vision with an integrated development environment that is used worldwide in all kind of industries. It enables cost savings and improved time to market. HALCON's flexible architecture facilitates rapid development of any kind of machine vision application. The software provides outstanding performance and a comprehensive support of multi-core platforms, special instruction sets like AVX2 and NEON, as well as GPU acceleration. The latest version HALCON 19.11 offers a wide range of new and improved machine vision functions. Particular emphasis was placed on the integration of further deep learning features. Now users benefit from massive simplifications for their applications, like faster inspection with anomaly detection, more transparency with the Grad-CAM heatmap and the support of ONNX format.