Memorial University and Ozaukee High School take top honors at underwater robot competition held at NASAs Neutral Buoyancy Lab
Teams participating in the Marine Advanced Technology Education (MATE) Centers student underwater robotics competition represented countries from all over the world. Top honors in the Explorer (advanced) class went to Memorial University of St. Johns, Newfoundland and Labrador, Canada, while Ozaukee High School of Ozaukee, Wisconsin captured first place in the Ranger (intermediate) class.

Memorial University won several other honors in the Explorer class, including best product demonstration and a special award given to a team or individual that demonstrates courtesy, kindness, professionalism, and assistance to other teams. The teams Rachel Seymour was named an "MVP" for capabilities demonstrated during her teams presentation to a panel of competition judges.
Ozaukee High School also took home multiple Ranger class prizes, including best product demonstration and the "biggest bang for the buck" award for having the vehicle with the best performance for the price.
In the Explorer class, Jesuit High School of Carmichael, California took second place and AMNO & CO of Seattle, Washington won third place. Highway 68 ROV Club of Salinas, California won second place in the Ranger class, while Harrington Middle School of Mt. Laurel, New Jersey came in third. A complete list of winners can be found online at http://www.marinetech.org/scoring/.
During the event, which was held June 23-25 at NASA Johnson Space Centers Neutral Buoyancy Lab (NBL), student teams competed using underwater robots, also known as remotely operate vehicles (ROVs), that they designed and built. With a capacity of 6.2 million gallons and a depth of 40 feet, the NBL is the worlds largest indoor pool and is used by NASA to train astronauts for spacewalks and other extra-vehicular space tasks.
This years ROV competition highlighted technologies developed for exploration and scientific use in both ocean and space environments. Sixty-nine student teams participated in underwater vehicle demonstrations that simulated realistic space and ocean missions such as turning a decommissioned oil rig into an artificial reef, collecting oil samples and coral specimens, and piloting their ROVs under the ice sheet of Jupiters moon Europa to collect data and deploy instrumentation. Teams were also required to prepare technical documentation, create marketing displays, and make a presentation to a panel of judges comprised of industry volunteers.
Judges evaluate teams on the design, construction, and performance of their ROVs; the members ability to communicate what they learned; and how they put their knowledge to use in developing their ROV. Teams compete in either the Explorer or Ranger class, depending on vehicle design and mission complexity.
The MATE Center and the Marine Technology Societys (MTS) ROV Committee organize the MATE ROV competition, which is supported by the MTS ROV Committee, the National Science Foundation, Oceaneering International, NASA, NOAA, and other ocean- and science-related organizations. For more information, visit http://www.marinetech.org.
Featured Product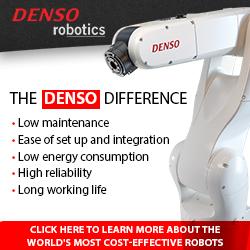 DENSO is the world's largest manufacturer - and user - of small assembly robots, employing over 17,000 of its robots in its own facilities. Over 77,000 additional DENSO robots are used by other companies worldwide. The compact, high-speed robots are used in traditional manufacturing sectors, as well as in advanced-technology applications in the medical, pharmaceutical and life sciences industries. Learn more about DENSO Robotics