Launch of Three Industry Initiatives: Support of Women in UAS; Education Efforts on Privacy Best Practices; and Enable UAS Technology with UTM Partners
The Commercial Drone Alliance, an independent 501c6 non-profit led by the commercial drone industry, announced today it is participating in the first-ever Office of Science and Technology Policy (OSTP) "Workshop on Drones and the Future of Aviation," being held at the White House.

Envisioned as a symposium on the potential for UAS technology, OSTP has brought together government, academic and industry stakeholders to discuss "the implications of unmanned aircraft as an emergent technology" and "potential ways to further address safety, security and privacy in the UAS space."
As part of the event, the Commercial Drone Alliance is launching three new initiatives to encourage diversity in this quickly growing industry, educate the public about drone use best practices, particularly as they relate to privacy issues, and foster innovation that opens the door to new applications for drone use. Specifics on the announcements include:
1) A Collaboration between the Women of Commercial Drones and the Commercial Drone Alliance. The groups are announcing a collaboration to advance women's participation in the UAS industry. Encouraging and mentoring women and young girls to become part of the fast-paced UAS industry is critical to the success of the industry. Together, the groups will kick off a mentorship program to support women's career development in the UAS industry and achieve success in leadership roles. The groups believe these efforts will tackle the broader issue of the lack of women in leadership in technology, which has become a challenge in Silicon Valley, across the country and around the globe.
2) Education Efforts Around Privacy Best Practices. In May 2016, a diverse group of stakeholders—including leading privacy advocates, UAS industry organizations, companies and academia—reached consensus on a set of best practices that will help guide organizations as they protect individuals' privacy when operating UAS. Now, as commercial and private UAS use becomes increasingly widespread, it is important to communicate these best practices across industries. The Commercial Drone Alliance, Association of Unmanned Vehicle Systems International, Small UAV Coalition, U.S. Chamber of Commerce, CTIA, National Association of Realtors, National Society of Professional Surveyors, and MAPPS are pleased to announce a broad educational effort to help users of UAS technology better understand the best practices and how they may be thoughtfully incorporated into various operations. These organizations also will reach out to state and local legislators and other government authorities and officials to disseminate information on these best practices.
3) Encourage the Development of Autonomy and UAS Operations. Today, the Commercial Drone Alliance and its members announced that it plans to work with the end user community and UAS Traffic Management (UTM) collaborators to further enable the acceptance of autonomy and UAS technology. A critical consideration of the UTM construct is understanding the acceptance of autonomy in technology development and the Alliance intends to work with NASA and other UTM partners to enable safe UAS operations and accelerate the acceptance of autonomous technologies in society. The Alliance pledges today to lead a broad educational effort to reach out to the American people and stimulate a public conversation in order to ensure the seamless integration of UAS into the national airspace. The Alliance plans to host town hall meetings and educational workshops in towns and communities across the country. The Alliance will also partner with humanitarian organizations to strategize drone use for disaster response and more. The goal is for America to lead the world commercially in the development, use and sale of remotely operated systems while upholding American values as we create jobs and support our economy.
"Innovative commercial and government platforms and applications for UAS are helping to solve problems, save money, conserve critical resources, and even save lives," said U.S. Chief Technology Officer Megan Smith. "The Administration will continue collaborating with public and private sector entities to further understand and explore safe and beneficial application of this emergent technology."
"Over the last few years, this Administration has recognized the huge potential of commercial drones, given the safety and efficiency benefits they bring to industry, and the critical role they play in the economy. I look forward to a productive conversation today about how we can streamline and expedite the federal government's efforts to integrate commercial drone use into the National Airspace," said Lisa Ellman, co-executive director, Commercial Drone Alliance.
"It's an honor to be invited to the White House for the OSTP's first Workshop on Drones and the Future of Aviation to demonstrate the progress commercial drones are making. We are excited about the Alliance's commitments to help educate the public and encourage more women to explore leadership roles in the quickly growing drone industry," said Gretchen West, co-executive director, Commercial Drone Alliance.
The Commercial Drone Alliance is co-led by industry veterans, Gretchen West and Lisa Ellman, both of Hogan Lovells LLP, a global law firm. Both Gretchen and Lisa are also co-founders of the Women of Commercial Drones group, a nationwide effort to encourage women to become involved in this market and to mentor women to become leaders in technology.
Commercial Drone Alliance members and partners include end users, manufacturers, insurance providers, investors, service providers and relevant associations who have all demonstrated a passion and commitment for growing the commercial drone industry in a way that promotes safety and security. Potential partners and members can learn more at http://www.commercialdronealliance.org.
About the Commercial Drone Alliance
Founded in 2016, the Commercial Drone Alliance is an independent 501c6 non-profit led by the commercial drone industry co-located in Silicon Valley, CA and Washington, DC. The overarching vision of the Alliance is to support commercial enterprise end users and assist them with adopting drone technology into their businesses, reducing barriers to entry, addressing public perception issues, and merging policy with innovation to create relevant rules for operation. http://www.commercialdronealliance.org
Featured Product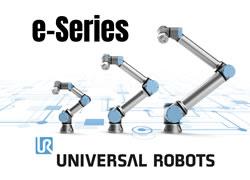 With the new e-Series cobot line, Universal Robots raises the bar for cobots, adding unique new features while significantly strengthening the four core principles defining collaborative robots: fast set-up, easy programming, flexible deployment, and safe operation. With a new built-in, tool-centric Force/Torque sensor the e-Series is ready to take on applications requiring force control right out of the box. A repeatability of 30 micron means the new cobots are suitable for very precise finishing, assembly and electronics tasks. A re-designed user interface decreases cognitive load and expedites program development, while a new externally accessible, 500Hz system bus enables more complex motion control algorithms or profiles.