Pega Robotic Automation now unified with Pega BPM platform and CRM applications to automate tasks, streamline processes, and enhance customer engagement
CAMBRIDGE, Mass. - September 27, 2016 - Pegasystems Inc. (NASDAQ: PEGA), the software company empowering customer engagement for the worlds leading enterprises, today announced Pega® Robotic Automation is now fully unified and available within the Pega® 7 Platform for Case and Business Process Management (BPM) and its portfolio of Customer Relationship Management (CRM) applications. For the first time, organizations can intelligently optimize how work gets done - by both humans and robots - across the enterprise from a central end-to-end platform. This enables organizations to more effectively automate tasks, streamline processes, increase employee productivity, and ultimately deliver more satisfying customer experiences.

Businesses are rapidly turning to robotic automation software to increase efficiencies and reduce costs by automating high volume and repetitive tasks that get in the way of delivering the best possible customer experience. Pega amplifies the power of robotic process automation (RPA) with proven BPM and CRM to expand the potential of robotics in new ways. Businesses now have the flexibility to seamlessly use both RPA and BPM together across the organization in any combination that works best for them. By uniting these capabilities on one platform, organizations can quickly deploy robotic automation to handle routine tasks and then manage those tasks within the overall business processes to ensure optimal outcomes for customers.
In addition, Pega Robotic Automation includes an enhanced management console that enables organizations to manage all of their robotic processes from a single location. When combined with Pega 7s BPM and case management capabilities, businesses can seamlessly manage the intersection of humans with robotic automation to ensure optimal workflows between them.
Earlier this year, Pega acquired OpenSpan, an industry leading software provider of robotic automation running on more than 200,000 desktops at leading global enterprises. This technology, now Pega Robotic Automation, was fully unified with Pegas technology portfolio in less than six months. Pegas strategy for both acquired and built technologies is to natively unify all capabilities together on the Pega 7 Platform, thus avoiding the pitfalls of complex and disconnected technology stacks.
Beginning today, Pega Robotic Automation is fully unified within Pega 7 and Pega applications. For more information, please visit www.pega.com/products/pega-7-platform/robotic-automation. These capabilities will be showcased at Pegas CRM Evolved event on October 25 at the Woodruff Arts Center in Atlanta, where leading brands will discuss how they use robotic automation to drive digital transformation in their businesses.
Quotes & Commentary:
"On its own, robotic automation has proven that it can deliver significant productivity gains for employees and organizations that transform customer engagement. But its true power results when its combined with other technologies to raise automation to an entirely new level, automating both core business functions and the 'long tail of hard-to-automate tasks," said Don Schuerman, CTO and vice president product marketing, Pegasystems. "With our market leading BPM and CRM solutions, Pega is in a unique position to realize this untapped potential to change the way our clients work and engage with their customers."
Supporting Resources:
Background: Pega Robotic Automation web page
Video: Pega Robotics Automation overview
Report: Gartner Magic Quadrant for Intelligent Business Process Management Suites
Report: Magic Quadrant for the CRM Customer Engagement Center
About Pegasystems
Pegasystems Inc. (NASDAQ: PEGA) develops strategic applications for marketing, sales, service, and operations. Pegas applications streamline critical business operations, connect enterprises to their customers seamlessly in real-time across channels, and adapt to meet rapidly changing requirements. Pegas Global 3000 customers include many of the worlds most sophisticated and successful enterprises. Pegas applications, available in the cloud or on-premises, are built on its unified Pega® 7 Platform, which uses visual tools to easily extend and change applications to meet clients strategic business needs. Pegas clients report that Pega® software gives them the fastest time to value, extremely rapid deployment, efficient re-use, and global scale. For more information, please visit us at www.pega.com.
All trademarks are the property of their respective owners.
Featured Product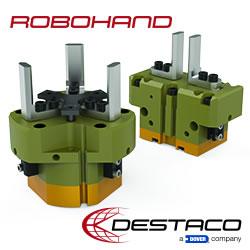 Automatically change end effector tooling quickly and easily with Destaco's Automatic Tool Changers. Designed with exceptional repeatability, high rigidity and load capacity, they are perfect for multiple tooling applications utilizing one robot. We offer different models and sizes to handle light-duty to heavy-duty applications. Our RQC/RTP Series provides a high level of flexibility with a configurable, modular design that accommodates up to four optional modular interfaces.