Warren County Vocational School District recognizes Remtec Automation for its strong support working with the Warren County Career Center's Electromechanical Program
Remtec Automation, LLC, a leader in flexible robotic automation, today announced it has been honored as part of the Ohio School Boards Association's (OSBA) 2016 Business Honor Roll program. The Warren County Vocational School District's Board of Education selected Remtec Automation for this honor for the firm's strong support of the Warren County Career Center's (WCCC) Electromechanical program. Remtec Automation will be recognized at the WCCC Advisory Committee banquet on October 20, 2016.

"We appreciate our business partners that work with our instructors and coordinators to help us provide the best career and technical education for our students," WCCC Superintendent Maggie Hess said. "Remtec has become involved with our Electromechanical PLC Technician program and gives those students an opportunity to have a job interview onsite in their classroom. Several of our students have been hired by Remtec, and we could not be more pleased with the relationship that has developed with the company. Bill Sillies is a valued business advisor for the program, and takes a personal interest in helping our students succeed."
The OSBA Business Honor Roll program gives school districts a way to say "thanks" to local businesses and recognize them for their valuable contributions to the schools. Remtec Automation's Vice President of Operations, Bill Sillies, serves on the Warren County Career Center secondary education advisory board and provides guidance for their Electromechanical Program to prepare students for success beyond the classroom.
"Being a member of the advisory committee gives me a chance to use my experiences to help steer the WCCC Electromechanical program toward current manufacturing needs so that the program stays relevant," says Sillies. "Not just the Warren County Career Center, but all vocational and technical schools are valuable to keeping manufacturing jobs in America by strengthening the knowledge base of future manufacturing workers; it is important that we help keep these centers current."
Remtec Automation was also recognized as the March 2016 Valued Business Partner at the Warren County Career Center. The company is active with the WCCC Electromechanical PLC Technician Advisory Committee and has hired several Adult Education students while they are in the early stages of their programs. Working together, program coordinator Dave Guinn and Sillies have developed a process in which the student is interviewed on site at the school for positions at Remtec Automation. The company is also getting involved in the high school Advanced Technologies & Robotics program, which began in the 2015-16 school year, to provide educational opportunities for students.
About Remtec Automation, LLC
Founded in 1981, Remtec Automation has designed, built, and installed hundreds of turnkey custom automation and robotic systems for applications in material handling, machine tending, packaging, palletizing, depalletizing, inspection, assembly, material removal, dispensing and spraying. Remtec Automation serves customers in a wide range of industries including automotive, consumer products, food, beverage, electronics, medical, and pharmaceutical. Remtec Automation is a Fanuc Robotics Level IV Systems Integrator, Certified Vision Systems Integrator and Certified Servicing Integrator. For more information, visit http://www.remtecautomation.com/.
Featured Product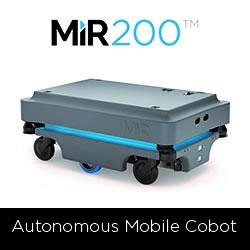 MiR200 is a safe, cost-effective mobile robot that automates your internal transportation. The robot optimizes workflows, freeing staff resources so you can increase productivity and reduce costs. MiR200 safely maneuvers around people and obstacles, through doorways and in and out of lifts. You can download CAD files of the building directly to the robot, or program it with the simple, web-based interface that requires no prior programming experience. With its fast implementation, the robots offers a fast ROI, with payback in as little as a year.