It is the latest series from Mouser's highly popular Empowering Innovation Together™ educational program.
DALLAS and FORT WORTH, Texas, Oct. 6, 2016 /PRNewswire/ -- Mouser Electronics Inc., the global authorized distributor with the newest semiconductors and electronic components, together with Local Motors and celebrity engineer Grant Imahara debuted a video today showing the working build of a transformative vehicle cockpit for a 3D-printed autonomous vehicle. It is the latest series from Mouser's highly popular Empowering Innovation Together™ educational program.

The video shows the new vehicle design, which is the inspiration of the winner of a recent global design contest. The new design features a drone mounted on the rear of the vehicle that, when launched, gives the driver an unprecedented birds-eye view of the surroundings while the car is in self-driving mode. The driver can then watch the drone's footage on the windshield via a viewing screen, giving the driver a 360-degree perspective of the surroundings.
Features of this innovative build combine electronic components from Mouser's valued manufacturer partners and platinum sponsors of the series, Maxim and Murata.
"At Mouser, we aim to help engineers maximize technology to create the next level of human and tech interaction," said Glenn Smith, President and CEO of Mouser Electronics. "The Empowering Innovation Together program is the embodiment of that mission, and this series with Local Motors is at the forefront of that interaction."
"The Mouser Strati is helping us envision some of the endless possibilities that self-driving vehicles could offer," said Local Motors Co-founder and CEO John B. Rogers, Jr. "This ambitious project showcases the creative power of our co-creation community as well as our ability to build cutting-edge vehicles at a rapid pace."
In addition to platinum sponsors Maxim and Murata, gold sponsors Lumileds and Phoenix Contact made this build possible. To learn more about all of Mouser's Empowering Innovation Together series — featuring the newly developed Innovation Lab for new projects ranging from bringing super hero technology to life to future projects like pushing the boundaries of drone technology — visit http://www.mouser.com/empowering-innovation. To watch the new video on Mouser's YouTube channel, visit https://youtu.be/9HkWI8_ETXY.
About Mouser Electronics
Mouser Electronics, a subsidiary of TTI, Inc., is part of Warren Buffett's Berkshire Hathaway family of companies. Mouser is an award-winning, authorized semiconductor and electronic component distributor, focused on the rapid introduction of new products and technologies to electronic design engineers and buyers. Mouser.com features more than 4 million products online from more than 600 manufacturers. Mouser publishes multiple catalogs per year providing designers with up-to-date data on the components now available for the next generation of electronic devices. Mouser ships globally to over 500,000 customers in 170 countries from its 750,000 sq. ft. state-of-the-art facility south of Dallas, Texas. For more information, visit http://www.mouser.com.
About Grant Imahara
Well known in the engineering community, Grant Imahara has paired his engineering expertise with a Hollywood TV and film career. In addition to his roles on MythBusters and BattleBots, Imahara is the inventor behind many famous robotic characters, including the Star Wars prequel-era R2-D2, talking robot sidekick Geoff Peterson from The Late Late Show with Craig Ferguson, and the rhythmic arms on the modern-day Energizer Bunny.
About Local Motors
Local Motors is a technology company that designs, builds and sells vehicles. By combining co-creation with local micro-manufacturing, we are creating a better world through hardware. We invite the global community of solvers, makers, and technologist to join us as together we create technology-forward products that inspire, empower, and nurture humanity. To learn more, visit www.localmotors.com.
Featured Product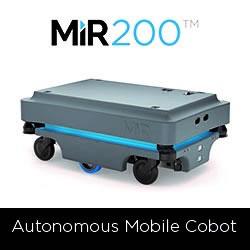 MiR200 is a safe, cost-effective mobile robot that automates your internal transportation. The robot optimizes workflows, freeing staff resources so you can increase productivity and reduce costs. MiR200 safely maneuvers around people and obstacles, through doorways and in and out of lifts. You can download CAD files of the building directly to the robot, or program it with the simple, web-based interface that requires no prior programming experience. With its fast implementation, the robots offers a fast ROI, with payback in as little as a year.