Single link CoaXPress frame grabber is ideal match for today's smaller, cool running and affordable CXP cameras
WOBURN, MA, NOVEMBER 1, 2016 -- A new generation of machine vision cameras built to the CoaXPress (CXP) standard has recently emerged that makes the development of CXP systems more affordable, easier to configure, and cooler operating. Responding to the need to create an equally cost-effective, high-speed interface to fully leverage these new CXP cameras, BitFlow has introduced the Aon-CXP single link CoaXPress frame grabber.

"The Aon is the simplest, most affordable CoaXPress frame grabber on the market today," explained Donal Waide, Director of Sales & Marketing for BitFlow. "What is truly amazing is that it is still powerful enough to support camera speeds up to 6.25 Gb/S which is almost twice as fast as USB3 and over six times the speed of current offerings of GigE Vision. Our engineers have taken the technologies incorporated into our industry standard Cyton™ frame grabber platform, and squeezed it into an incredibly compact, low cost package that shatters all price barriers to CXP."
OPENING NEW DOORS FOR CXP
Machine vision inspection systems must not only acquire and transfer high-resolution images from cameras to frame grabbers in PCs at extremely high data rates, but also analyze those images rapidly to produce meaningful results. CoaXPress has proven the perfect match to these requirements, capturing video at speeds up to 6.25 Gibabits per second, while simultaneously sending control commands, triggers and up to 13 W of power over a single piece of 75 Ohm coaxial cable. However, the original CXP cameras were power hungry, bulky and expensive.
Single link CXP cameras today boast improved price-to-performance ratios. As small as 29mm cubes, they enable the capture of four megapixel images at almost 150 frames-per-second. When mated with the Aon-CXP they provide all the convenience and price advantages of a GigE Vision or USB3 Vision camera system, along with additional features. Utilizing the Aon-CXP lets system integrators install cables up to 140 meters, and it provides a host of features missing from GigE Vision or USB3 Vision cameras, such as triggers, encoders, strobe, waveform generators, and quadrature encoder support. At the same time, because of the Aon-CXP featuring an advanced DMA engine, no CPU resources are used in moving images to host memory.
The Aon-CXP employs BitFlow's market leading, Gen 2.0 x2 PCI Express bus interface that doubles the data rate of the Gen 1.0 bus and is integrated throughout the company's Cyton™, Axion™ and Neon™ frame grabbers, enabling simplified installation using the Gen 1.0 version's same footprint and connectors. It also has BitFlow's StreamSync acquisition engine and buffer manager that efficiently supports variable sized images with fast context switching between frames.
Since the Aon-CXP is software compatible with other current BitFlow frame grabbers migrating applications from Camera Link or analog to CXP is trouble-free, offering complete flexibility and customization of camera functions.
To learn more, please visit www.bitflow.com.
About BitFlow
BitFlow has been developing reliable, high-performance Frame Grabbers for use in imaging applications since 1993. BitFlow is the leader in Camera Link frame grabbers, building the fastest frame grabbers in the world, with the highest camera/frame grabber densities, triggering performance, and price. With thousands of boards installed throughout the world, into hundreds of imaging applications, BitFlow is dedicated to using this knowledge and experience to provide customers with the best possible image acquisition and application development solutions. BitFlow, located in Woburn, MA, has distributors and resellers located all over the world including Asia, the Americas, and Europe. Visit our website at www.bitflow.com.
Featured Product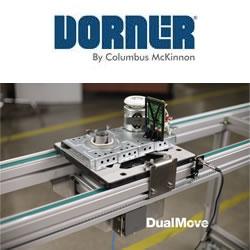 Dorner's 2200 Series Precision Move Pallet Systems are ideal for assembly automation. With features such as an innovative timing belt conveyor design and industry best pallet transfers, they get your product to the exact location, at the exact time and in the exact position it needs to be. They are now available with new options such as heavy load corner modules with 150 lb. capacity and 180 degree tight transfer corners for compact loops.