New servo controller chip from Trinamic helps reduce development costs for the application of three-phase synchronous motors and two-phase stepper motors, and opens the door to new possibilities with advanced servo control.
HAMBURG, Germany--(BUSINESS WIRE)--Trinamic Motion Control GmbH & Co. KG, a leading supplier of semiconductors, electronics and mechatronic solutions in the fields of motor and motion control, is proud to release the first integrated servo controller chip for two and three-phase motors. A dedicated servo controller chip, the TMC4670 allows engineers to overcome a wide range of design challenges with minimal effort. It handles all real-time critical motor control functions while also enabling controller and PMW cycle times which are otherwise difficult or impossible to achieve with microcontrollers. Thus, developers can focus on higher-level system functions without sacrificing system performance. This saves development time, reduces risk and simplifies future firmware revisions because the time-critical control function is no longer in the development scope. Trinamic will present the drives to the public at Electronica 2016, in Hall A4 at booth 513.

Servo control is always beneficial when exact positioning is required due to unforeseen process conditions or interruptions. This is especially true in robotics, or situations in which the positioning application puts the highest of demands on electrical drives. Besides classic industrial applications, the same quality of motor control system is increasingly required for applications in which classic servo controllers are not suitable or economical, e.g. desktop manufacturing and new, fast-growing fields like camera gimbals.
Michael Randt, Trinamic Founder and CEO:
"Easy integration opens the door to new fields of application. With the new components, for example, we were able to produce an active prosthetic leg together with Icelandic manufacturer Ă–ssur; the performance, reliability and compact design we achieved would never have been possible using traditional servo technology."
The TMC4670 has integrated analog digital converters for measuring current phases, and supports various types of positioning sensors. That way, the controller can flexibly map two sensors.
The components will be available at a price of USD 56 at quantities of 1000 as a BGA256 (17x17) package in the first quarter of 2017. To accelerate the design process, Trinamic offers complete end-to-end evaluation kits. The development boards are open-source hardware and freely available for use as a reference design.
About Trinamic
Trinamic, headquartered in Hamburg, provides integrated circuits and motor control modules to customers worldwide. The company's application-driven approach and in-depth understanding of their customers' needs allow them to offer solutions which simplify and shorten the design phase, resulting in significant cost savings, decreased resource allocation and a reduced total cost of ownership. Trinamic customers benefit from the company's rich expertise in motor physics and extensive portfolio of intellectual property (IP) acquired through many years of applied experience and success. Product development at Trinamic focuses entirely on miniaturizing form factor, increasing efficiency and maximizing the safety and reliability of their products and, thereby, the systems in which they're used.
Over 20 years of experience and a traditional German ownership structure with private shareholders ensure the long-term availability of their products and components.
From the headquarters in Hamburg, Germany, Trinamic products are sold via a worldwide distribution network.
Printable graphics are available at:
http://www.trinamic.com/company/press/
Featured Product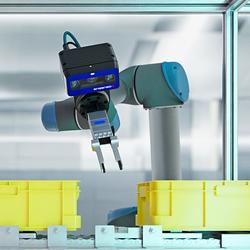 App Your Sensor®! What would smartphones be without apps? They would be mobile phones that can't do much more than make phone calls and sending SMS. Apps turn smartphones into intelligent assistants with any number of different tasks. Transferred into the world of image processing, this app-based approach transforms cameras and sensors into customised, smart vision sensors.