Get online technical data and CAD models of Thomas Regout products directly from the TraceParts CAD platform
Saint-Romain, France; November 16, 2016 - TracePartsOnline.net - the platform created by TraceParts in 2001 to provide free access to CAD models and technical specifications of hundreds of millions of industrial parts - announces a new partnership with Thomas Regout.

Thomas Regout is a well-known, established company that designs and produces telescopic ball bearing slides and sliding systems for a broad range of applications across many market segments. The companys products can be found in the Furniture sector (kitchen fittings, home and office furniture, shop fittings), the Automotive industry (in both cars and trucks), the Industrial equipment sector (e.g. ATMs and photocopiers), the Professional Storage sector (e.g. warehouses, interiors for special vehicles, tool-boxes, medical storage) and in many other segments and applications.
Thomas Regout produces reliable, robust telescopic slides that it co-designs with its customers to meet their precise needs and the highest quality standards.Thomas Regouts expertise in R&D and tooling enables the companys customers to stay ahead of the competition. Thomas Regout has the several ISO international certifications - including ISO 16949 certification for the automotive industry and environmental certification - to ensure that their products and services are safe, reliable, sustainable and of the highest quality.
Andre Stijns, Product Manager, explains why Thomas Regout decided to work with TraceParts:
Traceparts is a well-known, leading platform used by design engineers all over the world to find technical products and download 3D CAD files in all formats.
Through our partnership with Traceparts, we aim to make it easier for our customers and prospects to find the product they are looking for and enable them to download the corresponding CAD file in the desired format. By using this platform we will make our products more accessible to engineers worldwide.
The 3D models from Thomas Regout can be downloaded via www.tracepartsonline.net//content.aspx?fwsid=GLOBALV3&Class=THOMAS_REGOUT
About TraceParts
TraceParts is one of the worlds leading providers of 3D digital content for engineering. As part of the Trace Group founded in 1989, the company provides powerful web-based solutions, such as CAD part libraries, electronic catalogs and product configurators. TraceParts also provides digital marketing services to help part manufacturers, software publishers and computer hardware vendors promote their products and services and generate high-quality B2B sales leads.
The TracePartsOnline.net portal is available free-of-charge to millions of CAD users worldwide. It provides access to hundreds of supplier catalogs and more than 100 million CAD models and product data-sheets that are suited to design, purchasing, manufacturing and maintenance processes.
About Thomas Regout
Founded in 1834, Thomas Regout International B.V. is located in Maastricht, in the Netherlands. In 1834, Thomas Regout first became known as a manufacturer of nails and spikes. The changeover to cold-roll-forming technology in 1939 laid the foundations for the present company. Today, the company is a specialist in Telescopic Slides. Since December 2006, Thomas Regout has been certified with the highest quality standard for the automotive industry: ISO/TS 16949
Featured Product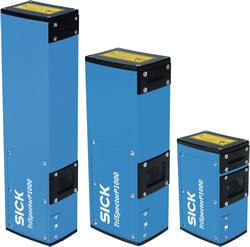 Take your quality inspections to the next level with tailor-made 3D solutions from SICK, Inc. The TriSpector1000 is a stand-alone, configurable 3D vision sensor that reliably inspects objects regardless of variations in color, height, shape, or position. It is suited for solving quality control issues and can be used for volume & thickness measurement and inspection of box integrity. Check out SICK's quality inspection solutions at Pack Expo 2019 in Booth #LS-6419.