The Pittsburgh Business Times praises Ed Henry for spearheading the company's most successful year to date
PITTSBURGH--(BUSINESS WIRE)--Seegrid, the pioneer and leader in three-dimensional vision navigation, today announced Chief Financial Officer Ed Henry was awarded "CFO of the Year" by the Pittsburgh Business Times.

Henry joined the company in 2015, bringing with him more than 20 years of leadership and financial management experience. Before joining Seegrid, Henry served as chief financial officer at Vista Resources, Inc., and as director of finance at Thermo Fisher Scientific.
"Since joining Seegrid as CFO, Ed has been a crucial part of the company's rapid growth," said Jim Rock, CEO of Seegrid. "Ed's capabilities go far beyond his financial savvy; he has a deep passion for technology and leads teams with strategic vision. He has been instrumental in our success over the past year, and his hard work has led to customer growth and additional financial investments, both of which demonstrate Seegrid's strength and commitment to the industry as we continue to advance our industry-leading vision technology."
Seegrid has nearly doubled the number of employees in the last 14 months, including the recruitment of top talent from Carnegie Mellon University and Google. Henry and his team have been instrumental in supporting the company's rapid growth with the implementation and refinement of operational systems and processes.
"It's an honor to be recognized among the many talented, respected business leaders in the Pittsburgh area," said Henry. "I am proud to be a part of such an incredible team at Seegrid, which continues to lead the autonomous robotics industry, offering its vision-guided navigation technology to the manufacturing industry and beyond. This award is a testament to the company's steadfast commitment to solving the world's toughest materials handling challenges."
About Seegrid
Seegrid, the pioneer and leader in three-dimensional vision navigation, provides unique and revolutionary automation technology for materials handling. Engineered with state-of-the-art Seegrid Vision, industrial trucks are transformed into the next generation of automated guided vehicles (AGVs): vision guided vehicles (VGVs). VGVs navigate without wires, lasers, magnets or tape, and they deliver unmatched flexibility. Designed for simplicity and reliability, the Seegrid flexible automation solution is available in a line of pallet trucks and tow tractors.
Experience the maximum benefits of VGVs with Seegrid Supervisor to manage, monitor and control a fleet of vehicles within the context of your operation. Generating economic advantages and operational efficiencies, VGVs optimize workflow processes, increase productivity and throughput, and reduce labor and operating costs, all while improving workplace safety, reducing equipment and product damage, and delivering a rapid return on investment. www.seegrid.com
Featured Product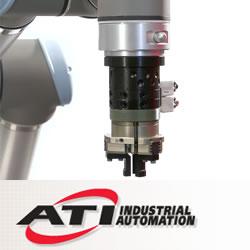 ATI Industrial Automation's MC-10 Manual Tool Changer provides a cost-effective solution for quickly changing tools by hand. Its compact yet robust design is optimized for collaborative robot applications. The ergonomic twist-collar locking mechanism ensures a secure attachment of the tool and easy manual operation with tactile feedback. This Manual Tool Changer can carry payloads of up to 22 lbs and includes multiple fail-safe features that resist vibration and prevent loosening. The MC-10 Manual Tool Changer has integrated air pass-through connections and options to connect electrical utilities if needed. ATI will feature the new MC-10 along with a variety of other robotic demonstrations and product displays at this year's IMTS show in Chicago (Booth #236417).