The latest VPX power supply is released from Aegis Power Systems, Inc. featuring 3U form factor, 650W output, and 270Vdc input.
Meeting various industry and military standards, a new 3U VPX power card from Aegis Power Systems, Inc offers the latest in embedded power supply technology. The filtered 270Vdc unit gives engineers in the defense and industrial markets a robust power system for use in VITA 62 rack mount chassis.

The VPX2703UC power card yields up to 93% max efficiency, 650 watts total output power, and a small 5HP size. Other features includes conduction cooling, six output voltages, short circuit protection with automatic recovery, quick start-up time, and alignment keys for allowing use of multiple units in one chassis. These powerful single slot rack cards are ruggedized and designed to meet applicable portions of various military standards including Mil-Std-704, Mil-Std 461e, and Mil-Std-810f.
The SWaP optimized power supply offers a thin profile for systems requiring minimal size and weight while maximizing power output. This VPX DC-DC power converter card is only available directly from the Aegis Power Systems, Inc. Spec sheets and quote request forms are available at: http://aegispower.com/index.php/202-vpx-power-card.
About Aegis Power Systems, Inc.
Aegis Power Systems, Inc. is a USA manufacturer of custom and standard power supplies for military, industrial, and commercial markets. First founded in 1995, the company has developed a robust line of efficient and highly reliable AC-DC power supplies and DC-DC converters. Aegis Power Systems, Inc. is ISO 9001:2008 certified, veteran-owned, and a member of the IPC electronics association.
Featured Product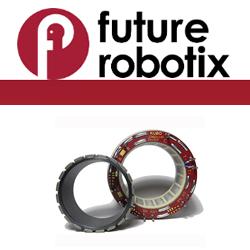 Less expensive direct replacements for RoboDrive motor kits with higher torque density, hollow shaft, low power-to-weight ratio, highest dynamics, exact linearity, low cogging torque. Available in sizes 38mm - 170mm. Available today at futurerobotix.com