Global leader in automotive interiors improving accuracy, output with collaborative robots
BOSTON, January 18, 2017 - Yanfeng Automotive Interiors (YFAI), the global leader in automotive interiors, has deployed two of Rethink Robotics Sawyer robots in its Monroe, Michigan-based facility. By introducing Sawyer, YFAI Frenchtown is improving two production processes, while freeing up employees to be used at positions where they can add more value.

Both Sawyer robots are being utilized on packaging tasks. One robot is removing trapped labor by packing parts from a conveyor onto a rack, handling 180 parts every 54 minutes. The second robot is counting parts from a conveyor as it places them into a tote, precisely packaging each tote with 80 parts.
With a focus on innovation through automation, YFAI has increased its production output and accuracy by leveraging Sawyer in these two tasks.
"We pride ourselves on continuous improvement and the addition of these Sawyer robots is already driving value in our plants," said Gayle Bayer, continuous improvement manager, YFAI. "Learning to work with these robots and deploy them on the line has been relatively simple, and its allowed us to stay on the cutting edge when it comes to automation in our facility."
With over 30,000 employees in 113 facilities worldwide, YFAI is the unquestioned leader in automotive interiors. One in every three cars in the world has a part from YFAI. This is the companys first wave of implementing collaborative robots. It began with Rethinks two-armed Baxter robot in its Grand Rapids, MI facility and is spreading throughout North America. The deployment of two smart, collaborative Sawyer robots at YFAI Frenchtown is allowing the company to effectively automate packaging tasks for the first time.
"Many companies struggle to effectively automate critical pick-and-place packaging tasks," said Jim Lawton, chief product and marketing officer at Rethink Robotics. "Sawyer is allowing companies like YFAI to efficiently automate these tasks, often increasing accuracy and output, while redeploying key personnel in more important positions in the facility."
For more information, please visit www.rethinkrobotics.com.
About Rethink Robotics
Rethink Robotics is transforming the way manufacturing gets done, with smart, collaborative robots able to automate the 90 percent of tasks that until now, have been beyond the reach of traditional automation. Its Baxter and Sawyer robots, powered by the Intera software platform, adapt to real-world variability, can change applications quickly and perform tasks like people do. The result: manufacturers of all shapes, sizes and industries get the fast-to-deploy, easy-to-use and versatile automation solution they need to increase flexibility, lower cost and accelerate innovation.
Based in Boston, the Rethink product suite is available in Asia, Europe and North America. The company is funded by Bezos Expeditions, CRV, Highland Capital Partners, Sigma Partners, DFJ, GE Ventures and Goldman Sachs. For more information about Rethink Robotics, please visit www.rethinkrobotics.com and follow us on Twitter at @RethinkRobotics.
Featured Product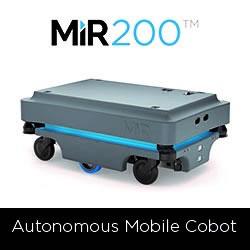 MiR200 is a safe, cost-effective mobile robot that automates your internal transportation. The robot optimizes workflows, freeing staff resources so you can increase productivity and reduce costs. MiR200 safely maneuvers around people and obstacles, through doorways and in and out of lifts. You can download CAD files of the building directly to the robot, or program it with the simple, web-based interface that requires no prior programming experience. With its fast implementation, the robots offers a fast ROI, with payback in as little as a year.