When applications call for precise movement of product, then Dorner's newly redesigned 2200 Series Precision Move Conveyor is the answer.
HARTLAND, Wis., (March 6th, 2017) - When applications call for precise movement of product, then Dorner's newly redesigned 2200 Series Precision Move Conveyor is the answer.

Dorner's new 2200 Series Precision Move Conveyor is engineered for accurate movement of product at specific times, distances and intervals that are critical for components in the manufacturing and packaging processes of
small- to medium-sized parts. Precision Move gives greater product control and accuracy to automated applications including machine integration, robotic pick-n-place, precision indexing, accurate part positioning, timed conveying, vision inspection and part handling. The timing belt and servo motor combination adds a level of precision capability to the proven 2200 Series platform.
New features of the conveyor include reverse V-Guide belt tracking along the entire length of the conveyor to provide seamless belt performance without the need for side guides; expanded conveyor sizes - a small, one-inch wide conveyor option with tip-up tail for easy belt removal; and additional servo motor support with selectable motor manufacture and model numbers, as well as additional gear ratios for enhanced performance.
The 2200 Series Precision Move Conveyor is the fourth and final platform introduced as part of Dorner's newly redesigned 2200 Series family of conveyors. In April, 2016, Dorner re-launched the original 2200 Series to include new features such as a redesigned frame, additional belting and expanded guiding to make the platform stronger, faster and more flexible.
The 2200 Series LPZ, which comes with one or two pivot points, launched in June as a new offering in the newly redesigned series. In September, the third conveyor, the 2200 Modular Belt, debuted with additional belt options,
a sleek open frame design and a universal T-slot.
Features and benefits of the new 2200 Series Precision Move conveyor
include:
. Loads up to 200 pounds
. 12 tooth T10 profile
. Positive drive, no slip belting
. Conveyor lengths: 1.5' to 30'
. Conveyor widths between 1" and 24"
. Belt speeds up to 370 feet per minute
. Conveyor only repeatability +/-.02"
. Servo package repeatability +/-.04"
All of Dorner's 2200 Series conveyors can be configured in Dorner's Online Configurator, DTools. Users can engineer a complete conveyor and download a complete 3D CAD assembly model for instant validation of fit.
For more information on Dorner's new 2200 Series Precision Move conveyor, visit www.dornerconveyors.com.
Connect with Dorner on Facebook at www.facebook.com/dornerconveyors Follow Dorner on Twitter at www.twitter.com/dornerconveyors Subscribe to Dorner on YouTube at https://www.youtube.com/user/DornerConveyors
Follow Dorner on LinkedIn at www.linkedin.com/company/dorner-mfg-corp
###
Hartland, Wisconsin-based Dorner Mfg. Corp. is a world leader in the design, manufacture and distribution of high-quality conveyors and related equipment. Since 1966, companies from around the world have turned to Dorner conveyors for greatly improved efficiency and productivity. For more information about products or company news, visit Dorner's Web site at www.dornerconveyors.com or call 1-800-397-8664.
Featured Product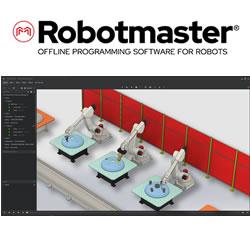 Robotmaster delivers unmatched, full-function off-line programming capability for robots - easy programming of precise robot motion control and quick generation of path trajectories of any size, with minimal programmer intervention. Our strong background in CAD/CAM (Computer Aided Manufacturing) software has enabled us to bring a revolutionary approach to programming industrial robots.