Key Congressional leader is most recent of a series of Congressional visits demonstrating the high level of Congressional interest in Endeavor Robotics cutting edge and battle proven technology.
CHELMSFORD, Mass., March 7, 2017 /PRNewswire/ -- Endeavor Robotics (FKA iRobot Defense & Security), the United States-based leader in ground robotics for defense, first responders, and industrial applications recently hosted House Armed Services Committee Chairman Mac Thornberry, a key leader in reshaping the U.S. military. Thornberry's visit to Endeavor was the most recent in a series of visits by members of the House Armed Services Committee seeking to learn more about Endeavor Robotics' contributions to the development of the next generation of warfighting technology.

"We were honored to host Chairman Thornberry's visit to our headquarters. Representative Thornberry conveyed his strong belief in the need to get the best, cutting-edge technology to the warfighter as rapidly as possible—a philosophy completely aligned with our work in defense robotics over the past two decades. We were also able to demonstrate some of the new capabilities that enable Endeavor to continue its leadership position as the U.S. military embarks on a series of Programs of Record," said Sean Bielat, CEO, Endeavor Robotics.
Other recent Congressional visitors to Endeavor Robotics include but are not limited to House Armed Services Committee members:
Representative Mac Thornberry (TX-13)
Representative Bradley Byrne (AL-01)
Representative Tom MacArthur, (NY-03)
Representative Steve Russell (OK-05)
Representative Elise Stefanik (NY-21), Chairman of the House Armed Services Subcommittee on Emerging Threats and Capabilities
Representative Niki Tsongas, (MA-3)
Representative Rob Wittman (VA-01), Chairman of the House Armed Services Subcommittee on Seapower and Projection Forces
As the leading Department of Defense (DoD) robot provider, Endeavor responded to urgent needs and saved lives by rapidly developing, producing, and supporting thousands of robots used to counter enemy explosives. Endeavor worked directly with EOD technicians in theater and with program managers to understand the EOD concept of operations, to integrate new capabilities and robot behaviors and to deliver the best robots in the shortest time to keep up with evolving threats.
Endeavor Robotics, formerly the Defense and Security division of iRobot Corporation, has supported deployed troops since 2002 and has delivered more than 6,000 robots worldwide in more than 128 customer-driven variants across 4 unmanned ground vehicle weight classes to aide in a wide variety of tactical missions. Endeavor Robotics has integrated more than 140 third party capability modules across its product line. Integrated products include 25 different disruptors, seven CBRNE sensors, six manipulator types, various radios with cybersecurity provisions, firing systems, EO/IR cameras, and X-ray systems, among others.
Endeavor is proud that its tactical robots are designed by Americans, American Veterans, and are manufactured in the U.S.A.
About Endeavor Robotics
Endeavor's robots serve on the front lines around the world. Endeavor Robotics brings an established leadership team with decades of experience integrating ground robotic systems, and the best roboticists who collaborate with end-users to develop robots for worldwide markets which operate in areas of conflict and in response to natural disasters. Everyday our robots protect our service men and women from IEDs, hazardous materials and other deadly threats. Endeavor Robotics specializes in delivering and supporting battle-hardened and adaptable robotics. We are committed to design, develop and manufacture tactical robotics in the United States, and to work with industry leaders and government partners to deliver innovative, reliable, and the easiest to operate robot solutions. Our family of robots includes the 5 lb FirstLook, the less than 20 lb SUGV, the man-portable PackBot, and the heavy-duty Kobra. To date, we have delivered more than 6,000 robots to more than 40 countries worldwide. Please visit www.endeavorrobotics.com to learn more.
Featured Product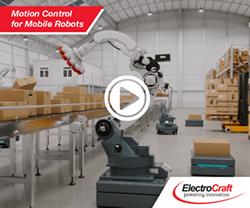 Featuring a high torque-density brushless DC motor with integrated single-stage planetary gearbox and wheel assembly. ElectroCraft's MPW52 integrates a 14-pole Brushless DC motor with a heavy-duty, single-stage planetary gearbox mounted inside the hub of an aluminum wheel with polyurethane tread. Designed for mobile platform traction systems with optional encoder feedback to support positioning capability and electromagnetic brake to hold position when power is removed. The MPW52 combines optimum performance with high-efficiency, quiet operation and long life.