Dorners flexible chain conveyor platform, SmartFlex®, is now available in an 85 mm width standard option.
HARTLAND, Wis., (March 16, 2017) — Dorners flexible chain conveyor platform, SmartFlex®, is now available in an 85 mm width standard option.

With this addition, SmartFlex Conveyors are now available in 4 standard
widths: 65 mm (2.6"), 85 mm (3.3"), 105 mm (4.1") and 150 mm (5.9"). Other sizes that can be specially ordered include: 45 mm (1.8"), 180 mm (7.1") and
260 mm (10.2"). This new expanded offering gives customers greater options for various applications in packaging, food, medical, assembly and other industries.
SmartFlex Conveyors are engineered to exact customer specifications and shipped in sub-assemblies for fast and easy installation. Using Dorners Online Configurator D-Tools, users can design and engineer simple or complex conveyors to meet their needs in minutes. The industry-leading tool delivers a complete 3D CAD assembly model for instant validation of fit.
One of the many strengths of the SmartFlex Conveyor is product transfers.
Accessories such as infeed and exit powered transfers allow for smooth end transfers for products as small as 3" diameter. SmartFlex Conveyors are engineered to seamlessly integrate with Dorners other 2200 Series low profile belt conveyor platforms, an advantage that gives customers the ability to select Dorner for all its mainline and support conveyor systems.
For additional flexibility to move product up or down and around equipment, the SmartFlex Helical Curve, Spiral, and Alpine conveyors are the answer.
The SmartFlex Helical Curve allows incline or decline movement through corners and straights, and provides capability for vertical incline with minimal space. The SmartFlex Spiral is capable of twisting 360° degree turns to move product vertically with an extremely small footprint. Both the helical and spiral conveyors feature a patent pending chain design that allows the conveyor to maintain speeds and loads through the angled curve.
The SmartFlex Alpine is designed for long, continuous incline or decline runs with tight turns. Its also ideal for accumulating, buffering and
cooling product between processes or machines.
Dorners December 2015 acquisition of Malaysia-based FlexMove, a leading manufacturer of flexible chain conveyors for the food, beverage, automotive, electronic and other industries, is helping drive new innovation in the SmartFlex line by offering customers expanded conveyor options and capabilities.
Specifications, features and benefits of the SmartFlex Conveyor include:
• Aluminum single-piece frame
• Navigates very tight corners with wheel and plain bend options
• Multiple product transfer options for end and side transfers
• Speeds up to 250 feet per minute
• Load capacity up to 600 pounds
• Multiple chain types including low friction, friction insert,
conductive, cleated, roller top and magnet top
For more information on the SmartFlex Conveyor platform, visit www.dornerconveyors.com.
Connect with Dorner on Facebook at www.facebook.com/dornerconveyors Follow Dorner on Twitter at www.twitter.com/dornerconveyors Subscribe to Dorner on YouTube at https://www.youtube.com/user/DornerConveyors
Follow Dorner on LinkedIn at www.linkedin.com/company/dorner-mfg-corp
###
Hartland, Wisconsin-based Dorner Mfg. Corp. is a world leader in the design, manufacture and distribution of high-quality conveyors and related equipment. Since 1966, companies from around the world have turned to Dorner conveyors for greatly improved efficiency and productivity. For more information about products or company news, visit Dorners Web site at www.dornerconveyors.com or call 1-800-397-8664.
Featured Product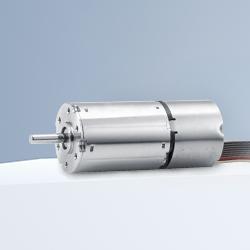 MICROMO launches the new MC3/MCS motion control family. The new high performance, intelligent controllers are optimized for use with FAULHABER motors, offer electronics for simple operation with state-of-the-art interfaces for multi-axis applications, and provide a motion control system solution with the most compact integration into industrial grade housing.