A new partnership between Sinclair College in Dayton, Ohio, and the Holon Institute of Technology in Israel, will create new pathways for technical, academic, certificate, and degree programs in unmanned aerial systems.
FOR IMMEDIATE RELEASE

Contact: Ryan Honeyman, Strategic Communications Coordinator
Sinclair Community College Workforce Development
ryan.honeyman@sinclair.edu - 937.512.5743
Sinclair College and Israeli-Based Holon Institute of Technology Break New Ground with UAS Partnership
Dayton, OH - Sinclair College is expanding the international reach of its unmanned aerial systems (UAS) program through a new agreement with Israeli-based Holon Institute of Technology (HIT) that is designed to create new pathways for technical, academic, certificate, and degree programs between the two organizations.
The partnership marks the first formal UAS agreement that Sinclair has entered into with an international higher education institution, and could provide opportunities for students, faculty, and staff through study abroad and exchange programs with a focus on UAS and related technologies.
"This is a very important step for growing UAS capabilities and resources at both institutions," said Deb Norris, Senior Vice President for Sinclair Workforce Development. "This is a global industry thats growing rapidly, and having the ability to share our unique expertise in UAS with others around the world is a strong reflection on the great work thats being done here in the Dayton region."
Dr. Refael Barkan, Head of Research, Development and External Relations at HIT added that "HIT considers this collaboration as a very important step in widening its academic and R&D partnerships in the USA. The field of UAS can provide a variety of opportunities for academic staff and researchers, as well as students. It can also pave the way for an additional layer of collaboration with the industry in Israel and abroad."
Both institutions will have the ability to collaborate on joint education, training, and applied research and development activities through the agreement, including identifying external funding sources to support advancing UAS capabilities.
Sinclair has previously partnered with the Israeli-based simulations systems provider Simlat to bring leading-edge resources to the colleges UAS Simulation Lab. That first partnership was set in motion through the Dayton Region Israel Trade Alliance (DRITA), a program that promotes business development activities between Israeli and Dayton region technology-based companies and organizations. The Holon Institute of Technology is located south of Tel Aviv in Holon, the sister city to Dayton.
Sinclair Colleges National UAS Training and Certification Center sits at the forefront of UAS innovation, creating partnerships, developing leading curriculum, and investing significantly to establish a nationally prominent program dedicated to meeting the workforce needs of the growing UAS industry. Sinclairs UAS program supports research, development, and training on vehicles and components through advanced unmanned and manned simulation, sensors, avionics, maintenance, advanced manufacturing and rapid prototyping, data analytics, and wind tunnel labs.
HIT is a well-established unique and multidisciplinary academic institution, which manages to keep its young spirit as well as its dynamic and contemporary nature. HIT represents the combination of academia and industry, advancing towards the integration of science, engineering, design and management. This unique integration is evident in its state-of-the-art research centers and labs as well as in joint academia-industry initiatives.
PHOTO CAPTION: Professor Eduard Yakubov of the Holon Institute of Technology (center, left) and Deb Norris, Senior Vice President of Sinclair Workforce Development (center, right) sign a partnership to advance UAS capabilities for both institutions.
###
Featured Product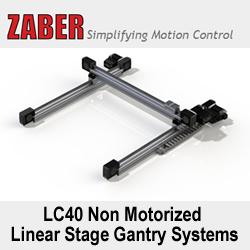 Zaber's X-LRQ-DE Series of linear stages have high stiffness, load, and lifetime capabilities in a compact size. The integrated linear encoder combined with stage calibration provides high accuracy positioning over the full travel of the device. At 36 mm high, these stages are excellent for applications where a low profile is required. The X-LRQ-DE's innovative design allows speeds up to 205 mm/s and loads up to 100 kg. Like all Zaber products, the X-LRQ-DE Series is designed for easy set-up and operation.