National distribution agreement effective immediately.
HAUPPAUGE, NY, April 11, 2017 — Festo, one of the worlds premier automation companies, and Allied Electronics, a leading distributor of industrial automation products with North American headquarters in Fort Worth, Texas, inaugurated today a national distribution agreement covering Festo actuators, fittings, solenoids, valves, and filters.

"Festo is recognized for its engineering, product quality, and support," said Frank Cantwell, Vice President of Product and Supplier Management at Allied Electronics. "With the new Festo North American Regional Service Center in Mason, Ohio, Festo gains forward product deployment. This helps lower distributor inventory requirements and makes a North American distributor like Allied more productive, competitive, and responsive to its customers. I am proud to say today we are distributing Festo products."
"Every Allied Electronics local branch, and they have 43, has an outstanding relationship with its customers and knows the needs of its local market," said Mark Snyder, Channel Director, Festo. "Once Allied sales people experience the satisfaction their customers have with Festo products, sales will steadily climb. The new national distribution agreement is a win for customers, Allied Electronics, and Festo."
For more information on obtaining Festo actuators, fittings, solenoids, valves, and filters visit www.alliedelec.com or call the local Allied Electronics office at 800.433.5700. For more information on Festo, visit www.festo.us.
###
About Festo
Festo is a leading manufacturer of pneumatic and electromechanical systems, components, and controls for process and industrial automation. For more than 40 years, Festo Corporation has continuously elevated the state of manufacturing with innovations and optimized motion control solutions that deliver higher performing, more profitable automated manufacturing and processing equipment.
Connect with Festo: Facebook, LinkedIn, Twitter and YouTube.
About Allied Electronics
Allied Electronics is a high-service level, authorized distributor of industrial automation, interconnect, cabling, and electromechanical products with sales offices serving the Americas. With more than 3.5 million parts online, engineers and purchasers often look to Allied for a broad range of product solutions from more than 300 world-class suppliers. Allied Electronics is a trading brand of Electrocomponents plc (LSE:ECM), the global distributor for engineers headquartered in Oxford, England.
Connect with Allied: Facebook, Twitter, LinkedIn, YouTube, www.thinkallied.com
Featured Product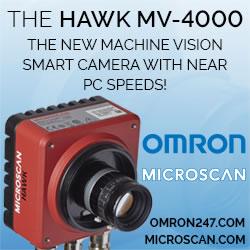 Awe-inspiring power and superior flexibility is sheathed within the contoured casing of the HAWK MV-4000. This smart camera builds upon the previous generation by quadrupling processing power and achieving real-time trigger response using an FPGA. Its state-of-the-art algorithms make it an excellent tool for any industry, whether the requirement be code reading, code verification, inspection, guidance, gauging or a combination of all four.