The event addresses the latest innovations in the Alternative Clean Transportation industry.
DUNCAN, S.C. (May 2-3, 2017) - Stäubli will exhibit a variety of industry-defining products at the ACT EXPO in Long Beach, CA this May, offering a large range of connections solutions for alternative fuel sectors. The event addresses the latest innovations in the Alternative Clean Transportation industry. Stäubli is a mechatronics solutions provider focused on connectors (both fluid and electrical), robotics and textiles.

At ACT EXPO, the largest clean fleet event that addresses all alternative fuels and all weight classes, Stäubli (booth #645) will present its refueling nozzles, break-away safety, receptacles, etc. Attendees will observe innovative solutions and proprietary technology that make Stäubli the global leader for fluid and electrical connectors. Stäubli, responding to demands from alternative fuel sectors, provides solutions for all types of vehicles (light and heavy), and for all types of refilling (vehicle fleets as well as self-service distribution). Stäubli's hydrogen refueling systems work on all types of electric vehicles fitted with a fuel-cell. The company's couplings for Liquefied Petroleum Gas (LPG) vehicles are reliable, user friendly and safe. Refueling systems for Natural Gas Vehicles (NGV/CNG) are highly reliable and efficient, as well.
Whether for slow or for fast refueling applications, all Stäubli products are designed to provide comfortable use, reliability and guaranteed safety.
About Stäubli North America
Stäubli North American headquarters is located in Duncan, SC with over 200 employees supporting Textiles, Connectors and Robotics customers. The sales force is strategically placed on the West Coast, Canada, Mexico and elsewhere throughout the continent.
Celebrating its 125th anniversary this year, Stäubli is a leading manufacturer of textile machinery, quick release couplings and robotics systems. With a workforce of over 4500 employees Stäubli is present in 25 countries supported by a comprehensive distribution network in 50 countries worldwide.
Visit www.staubli.us for more information on Stäubli and products.
Featured Product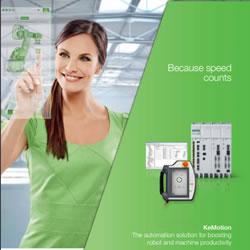 Best ergonomics and an intuitive user interface are key factors for efficient operation and monitoring. With the KeTop devices, high-performance, application-optimized hardware is available. The turnkey TeachView robotics user interface enables fast and easy teach-in. User-friendly HMIs are created with the easy-to-operate KeView visualization software - an optimum user experience is guaranteed.