The Cloud4Drones platform is expected to be commercially available in 2017.
BRUSSELS, Apr 18, 2017 (PR Newswire Europe via COMTEX) -- BRUSSELS, April 18, 2017 /PRNewswire/ --

EIT Digital is launching "Cloud4Drones," a cloud-based platform for drone monitoring that provides a novel way of building drone applications by exploiting the nearly ubiquitous connection to mobile networks to provide a cloud-based centralized data harvesting platform for data storage and backup. Integration with the cloud infrastructure enables live use of data collected by the drone. The cloud platform allows professional drone operators to build new and enriched cloud-enabled services e.g. for infrastructure monitoring. The Cloud4Drones platform is expected to be commercially available in 2017.
The annual cost for various maintenance inspections in Europe is estimated to be approximately EUR2 billion. The economic implications for commercial drone use for infrastructure inspections are undeniable. According to Deloitte University Press*, it is e.g. possible to inspect 15 - 20 wind turbines in a day by using drones with advanced software, compared to the only two to five inspected by traditional ground-based methods.
The Cloud4Drones platform is being developed in the context of EIT Digital's "Cloud Platform for drone monitoring Innovation Activity", and focuses on human pilot controlled Remotely Piloted Aircraft Systems (RPAS). Maurizio Griva, the Innovation Activity Leader and Internet of Things Solution Manager at Reply said:
"Our Innovation Activity is the first step towards the evolution of drones as autonomous or self-driving drones. The digitalisation of drone services and their connection to cloud computing is the essential first step for the mature adoption of this technology. This will be possible only if the drones are connected to a mobile network, covering today almost all of the European soil and thus providing the communication channel everywhere."
"Our way of building the drone applications by exploiting the connection to the mobile networks will be new, as unlike the existing approaches, it will allow an inspector or domain expert to support operations without need of being on field, by providing feedbacks or advice while the drone is still on flight. This is an improvement in terms of efficiency and cost-reduction particularly relevant where infrastructures are spread in wide areas difficult to reach - like dams in the mountains or offshore infrastructures."
Further, the integration with the cloud infrastructure enables a live use of data collected by the drone by expert systems or human specialists and allows feedback to the human pilot flying the drone from the ground.
The Cloud4Drones platform is estimated to come commercially available by the end of 2017. It will contain a centralized data harvesting platform, prototype hardware platform with on-board software to be deployed on the drone, and a mission control tool made of a collection of tools aiding the user to design missions and foresee them prior the operation.
Background
EIT Digital Innovation Activities deliver new products or services, create startups and spinoffs to commercialise outputs from projects, and encourage the transfer of technologies for market entry.
Cloud Platform for drone monitoring is one of the 13 Innovation Activities of the Digital Infrastructure [https://www.eitdigital.eu/innovation-entrepreneurship/digital-infrastructure ] Action Line of EIT Digital for 2017. The Digital Infrastructure Action Line focuses on enabling digital transformation by providing secure, robust, responsive, and intelligent communications and computation facilities for the markets.
Reply [http://www.reply.com/en ] (Italy) acts as the project coordinator and business champion of the Innovation Activity. In addition to Reply, the following EIT Digital partners participate to the Innovation Activity: Telecom Italia [http://www.tim.it ], Thales Italia [https://www.thalesgroup.com/en/global/presence/europe/italy ], Politecnico di Milano [http://www.polimi.it/en/home ] (Italy), Universidad Politecnica de Madrid [http://www.upm.es/internacional ] (Spain), Commissariat a l'Energie Atomique et aux Energies Alternatives [http://www.cea.fr/english ] (France), and Eurecom [http://www.eurecom.fr/en ] (France). The field experimentations will be divided between Italy and Spain and focus on two different infrastructures; radio towers and power plants.
Related research
*Deloitte University Press, "Drones mean business", PDF, December 2016: https://dupress.deloitte.com/content/dam/dup-us-en/articles/3454_SfS_Drones-mean-business/DUP_Signals-for-Strategists_Drones-mean-business.pdf
Goldman Sachs, "Drones: Flying into the mainstream," video, May 2016: www.goldmansachs.com/our-thinking/pages/drones-flying-into-the-mainstream.html [http://www.goldmansachs.com/our-thinking/pages/drones-flying-into-the-mainstream.html ]
About EIT Digital
EIT Digital is a leading European open innovation organisation that brings together a partnership of over 130 top European corporations, SMEs, start-ups, universities and research institutes. EIT Digital invests in strategic areas to accelerate market uptake of research-based digital technologies and to bring entrepreneurial talent and leadership to Europe.
EIT Digital is a Knowledge and Innovation Community of theEuropean Institute of Innovation and Technology(EIT [http://eit.europa.eu ]). EIT Digital headquarters are in Brussels with co-location centres in Berlin, Budapest, Eindhoven, Helsinki, London, Madrid, Paris, Stockholm, Trento and a hub in Silicon Valley.
For more information visit: http://www.eitdigital.eu
Follow us on Twitter: @EIT_Digital
Follow as on Facebook: https://www.facebook.com/EITDigital
Featured Product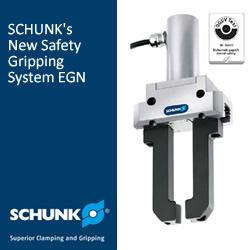 With the SLS, SOS, and STO functionalities, the SCHUNK EGN gripping system certified in accordance with DIN EN ISO 13849 enables safe human/machine collaboration. If the production process is interrupted by an emergency shut-off, the SCHUNK EGN goes into either a safely limited speed mode or a safe stop mode depending on the activated protection zone. In contrast to other solutions available on the market, the SCHUNK safety gripping system is continuously powered even in the safe operating stop so that the gripped parts are reliably held even without mechanical maintenance of gripping force. As soon as the protection zone is released, the gripper immediately switches back to the regular operating mode without the system having to be restarted.