First customers include U.S. and Canadian Militaries
May 16, 2017 - ARGOs Space, Robotics and Defense Division, a leading manufacturer of unmanned robots and lunar space rovers designed to tackle the worlds harshest environments, today announced the release of the ARGO J8 Atlas XTR for defense, disaster relief missions and rescue operations.

With UGVs (Unmanned Ground Vehicles), playing an increasingly important role in hazardous and extreme environments, ARGO developed the electric 8-wheeled amphibious, all-terrain mobile robot to protect the lives of soldiers and keep humans out of harms way, no matter the application or operation.
Featuring a customizable platform that can be adaptable to any mission-specific payload device or system, the new ARGO J8 Atlas XTR can be used to navigate and monitor unsafe area without risking soldiers safety and is already winning praise from both the Canadian and U.S. Armed Forces.
In March, ARGO received a $1 million contract for three ARGO Atlas J8 XTR which are currently being tested by Defence Research and Development Canada, an agency of National Defence, at the Suffield Research in Alberta. The U.S. Armys Rapid Equipping Force (REF) has also purchased several vehicles in recent months, testing them at the Muscatatuck Urban Training Center (MUTC) in Butlerville, Indiana with a view to ultimately deploying it in defense operations.
Jason Scheib, ARGO Robotics & Defense Sales Manager commented: "With the ARGO Atlas J8 XTR, militaries and defense contractors have a mission ready, cost-effective solution that can reduce exposure to threats for troops and minimize the manpower required for disaster response and rescue operations. UGVs such as the Atlas J8 have a huge potential within the next generation of defense operations and we look forward to working with customers to develop and deploy solutions that meet their needs."
The new ARGO Atlas J8 XTR can traverse difficult terrain in extreme weather conditions with payloads of up to 600 kg (1,320 lbs.) on land and 300 kg (660 lbs.) on water. Capable of operating in extreme temperatures from -20C to +40C and featuring a stealthy near silent noise signature thanks to its fully electric drive system, the ARGO Atlas J8 XTR has a built in two speed transmission that results in a top speed in excess of 30km/h and a typical working speed of 0 - 10 km/h.
Requiring minimal training and low maintenance, the J8 also features intuitive user-friendly controls allowing operators to maneuver it via remote teleoperation or line-of-sight radio frequency (RF) with a rugged hand held controller. Fully autonomous, the J8 is capable of self-navigating pre-defined missions in both GPS enabled and GPS denied environments with obstacle detection and avoidance. The vehicles unique 'Follow Me mode allows it to be wirelessly tethered to a leader and respond to their movements and direction with the mission route saved for autonomous execution.
Since 2008, ARGOs Space, Robotics and Defense Division has developed more than 20 robotic rover platforms designed for the harshest terrain conditions on earth, and in space. The companys latest generation of J-class robots offers a new level of mobility for applications in agricultural, industrial, security, and defense markets, where extreme mobility, personnel safety, security and durability are required in a proven, affordable platform. ARGO XTR robots are currently in service in Canada, Europe, Asia and South America for any application that is too 'dull, dirty or dangerous for humans.
More information and details about ARGOs entire line-up of amphibious and autonomous XTRs can be found online at www.ARGO-XTR.com.
About ARGO
ARGO Xtreme Terrain Vehicles (XTV) and custom utility packages have been manufactured since 1967. ARGO markets its products through a network of independent dealers and distributors located throughout the United States and Canada and through distributors representing dealers in Europe, Russia, South America, the Middle East, Asia and other international markets. ARGOs unique durability, safety and versatility are driven by the renowned engineering capability of its parent company, Ontario Drive & Gear Ltd. (ODG). Since 1962, ODG has manufactured quality precision gears and transmissions.
Featured Product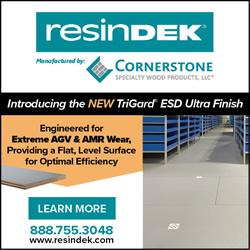 ResinDek flooring panels are designed for elevated platforms such as mezzanines, pick modules, and work platforms. They have the proven structural integrity to support dynamic and static rolling limits from 2,000 to 8,000 lbs. ResinDek flooring panels are available in a multitude of options that are customized for load capacities, required finish type, volume and type of traffic including heavy rolling pallet jack loads and robotic traffic with AGVs and AMRs.