Flexible, Easy-to-Use and Customizable RG6 grippers offer higher force, greater payload and longer stroke to benefit cobots in machining, material handling and packaging
Charlotte, N.C. and Odense, Denmark—August 22, 2017—On Robot, the fast-growing Danish manufacturer of innovative electric grippers for collaborative robots (cobots), today launched a flexible and energy-efficient gripper for cobots tasked with handling objects of various sizes. Easy to install on the arm of a cobot and simple to program, the RG6 is a bigger and stronger version of the companys popular RG2, with higher payload than other two-finger collaborative grippers available on the market today. This higher adjustable force (25N to 120N) enables three times higher payload (6-8 kg or 13.2-17.6 lbs.) and wider stroke (160 mm or 6.3 in.), ideal for manufacturers automating the movement of delicate or heavy objects in applications such as pick and place, computer numerical control (CNC), machine tending, packaging and palletizing, and assembly.

"Created after an extensive survey of our distributors worldwide, the RG6 extends the capabilities of the RG2 by providing an ideal user-friendly gripper that handles much larger objects," said Gary Eliasson, general manager, North America, On Robot. "The RG6 is powerful and strong, as a large number of customers have requested, but it is still as simple, easy to install, and safe as the RG2, with no external wires and an infinite rotation of the end joint, which makes them as flexible and dexterous as the robotic arm itself."
Like the RG2, the RG6 is an electric gripper instead of traditional compressed air solutions that take up large amounts of space, are energy-intensive and too complicated for many users. Compatible with all Universal Robots cobot arms, the RG6—which mounts the arm with factory-installed safety shields—is easy and fast to install, enabling operators to quickly modify assembly on the factory floor without the assistance of an engineer.
"These grippers are so safe and user-friendly that employees can be directly interact with the cobot," Eliasson added. "As a result, instead of being intimidated by the technology, the employees become increasingly engaged and fascinated by the possibilities. They are quickly recognizing additional ways that the cobots can be used to optimize and develop their production."
In addition to greater force, stroke and payload, the RG6 includes many of the same features as the RG2:
• Simple and intuitive programming that lets operators easily choose what they need the gripper to do, and the gripper then responds with flexible motion.
• Customizable fingertips to fit production requirements
• Dual grippers support without the need for extra wiring
• Assisted center-of-gravity calculation that lets users enter the weight of the payload and let the robot calculate the rest. This makes programming easier, enhancing overall productivity and improving safety by enabling more accurate robot arm movements.
• Automatic Tool Center Point (TCP) calculation on how the robot arm moves around the calculated TCP of an object, depending on the position in which the gripper is mounted, for easier programming and use.
• Continuous grip indication that allows the gripper to discern any lost or deliberately removed object
About On Robot
Based in Odense, Denmark, On Robot provides innovative and customizable plug-and-play grippers that help manufacturers take full advantage of the benefits of collaborative robots: ease of use, cost-effectiveness and safety next to human workers. On Robots highly flexible grippers mount directly on the cobot arm and are simple enough to be programmed and operated without the need for engineers, helping speed development and affordably automate processes. Bilge Jacob Christiansen and Ebbe Overgaard Fuglsang founded On Robot in 2014, and investors include the Danish Growth Fund (Vækstfonden) and Universal Robots alumni Enrico Krog Iversen and Thomas Visti. For more information, visit http://www.onrobot.com
Featured Product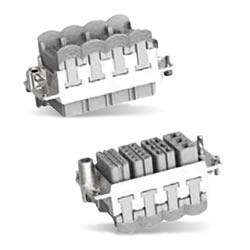 TE Connectivity's HDC Dynamic Module integrates the Dynamic series flexible signal and power solutions and the HDC Heavy Duty Connector series to form a solution of harsh environment connectors. TE's HDC Dynamic Module offers the top features of the two series. It uses the contact concept of the Dynamic series, with its proven performance in industrial uses and its cost effectiveness compared to legacy cutting contacts. The HDC connectors make the module a reliable solution for harsh environments. TE's HDC Dynamic Module supports 2A/32V to 40A/300V performance and 3 positions to 48 positions.