OCTOPUZ interviews Control Panels USA, an OCTOPUZ user and manufacturer of control panels and relay rack assemblies in Austin, Texas.
Control Panels USA is a UL508A, UL698A, & UL698B manufacturer of Control Panels and Relay Rack assemblies for clients in a wide range of industries. They have been providing reliable, cost effective control panel solutions to their customers since October 2000, with over 17 years experience to successfully implement control projects of all magnitudes.

Their 26,500 sq. ft. facility in Austin, Texas houses state of the art engineering, manufacturing, and testing capabilities. This allows them to supply their customers with cost effective solutions while maintaining very competitive lead times. Control Panels USA strives to exceed their customer's expectations while providing the highest quality products and services to their clients in the most cost efficient manner possible. All of this was made more feasible when they invested in OCTOPUZ.
"When I first visited Control Panels USA, it was great to see they were running their robot, but it was evident that the programming process could be much more efficient. Once it was demonstrated that OCTOPUZ could significantly reduce programming time for their current routing application, the conversation quickly turned to discussions about more applications they would like to implement in the future, including 3D milling." - Rob House, Director of Sales, OCTOPUZ Inc.
At Control Panels USA, they utilize a Fanuc R-2000-IA/200-FO six axis robot programmed with OCTOPUZ software to mill openings in electrical enclosures made of various materials, including plastic, fiberglass, carbon steel and 304,316 Stainless Steel. They have been using OCTOPUZ software with this robot for only six months, but have seen drastic and dramatic positive effects for their business already. Having tried using other offline software in the past, they were already operating with reduced time compared to manual programming. However, since using OCTOPUZ, they have seen an over 50% reduction in programming time in just six short months:
"We have paid for the software and training in the first six months of usage from the time we have saved in programming and gained productivity." Darren Wernli, Estimator at Control Panels USA.
Part of their success with OCTOPUZ is attributed to the excellent first start that they received through training and ongoing support. They liked how the software is customizable to meet individual unique needs, and OCTOPUZ will develop what customers need:
"I would highly recommend the training provided by OCTOPUZ since they will walk you through the set-up of your work cell, and you will know all the in's and outs of the program as they set it up, and you will be training on your own machine instead of a generic version of your machine." - Darren Wernli, Estimator at Control Panels USA.
About Control Panels USA
Control Panels was founded in 2000 in Austin, Texas. It is a customer-focused provider of Design and Manufacturing services of Control Systems for OEM, Utilities, and Engineering clients. It strives to exceed their customer's expectations while providing the highest quality products and services to their clients in the most cost efficient way.
To learn more about Control Panels USA, please visit their website here: http://www.controlpanelsusa.net/
About OCTOPUZ
OCTOPUZ is an intelligent offline robotic programming and simulation software ideal for any sized company. It offers the ability to program, simulate and generate code for multiple robots, simultaneously, with support for most robot brands in any configuration. OCTOPUZ is fully customizable to our customer's needs, and our extensive support will provide assistance before, during, and after the sale.
To learn more about OCTOPUZ, or to request a free personalized demo for your application, send an email to info@octopuz.com or get in touch with your nearest reseller.
Featured Product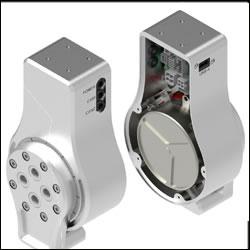 A brushless DC motor solution for use in hip and knee exoskeletons. This complete joint actuation unit consists of motor, gearhead, encoder and position controller. Fitting absolute encoder directly at the joint rotation provides designers increased positioning accuracy. The unit will deliver 54Nm of continuous torque and 120Nm on a 20% duty cycle. The system can be operated on supplies between 10 and 50V DC and the actuation speed is up to 22rpm.